Thursday is GURPSDay! It's a good haul this morning, befitting the entry into the vast wasteland of productivity called the Christmas-New Year period. Read 'em all, check 'em out, and if you spot a GURPS blog in the wild, ping them and let them know they too can be on the list, so long as they, as Emmet would say, "follow the instructions."
In personal Gaming Ballistic News: All of my RPG products are on sale until January 2. Whether as a gift, or for yourself, check 'em out. Additionally, for those who (gasp!) cross over into the lands of Dragon Heresy, I will be launching a Kickstarter tomorrow at some point to port Hall of Judgment over to the Dragon Heresy system. If it funds, I will certainly update the HoJ combat maps to the new style.
GURPSDay is in its fifth year – GURPSDay started in February 2013,  a year after I started Gaming Ballistic. Things have slowed down a bit, and I'll be considering how to revitalize this weekly activity. I'd like to see an average of 100 posts here per week – one per blog, ish – so we'll see what we can do to get creative juiced flowing.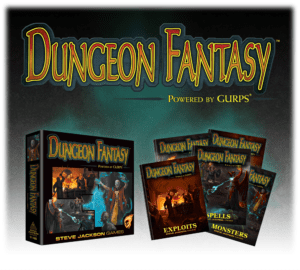 If you just started a GURPS blog – and I know that some of you have – email me and get on the list! With the advent of the Dungeon Fantasy RPG, Powered by GURPS, there's even more reason to write.
How? Two action items: post more, recruit more. It's really that simple. More posters is more posts, and more interest in GURPS.
Below you can find the blog activity for the last week. There's a whole lotta awesome GURPS going on. Read all the posts.
Not every blog posts about GURPS every week, but some are ridiculously prolific! The list is randomized, so different bloggers will be highlighted at the top of the post each week.
As always, if you're interested in having your blog consolidated here, navigate over to The Instructions Page and drop me a line. Take special note of the RSS Settings Fix if you're on WordPress.
—
Don't Forget Your Boots (Mitch French)
—
Lair of the Chaotic GM (ChaoticGM)
—
Northport (Denis McCarthy)
—
Noh RPG Group (binn05)
gurps_20181206/Moe_Lane could not be parsed – is it empty?
—
Generic Universal Eggplant (Enraged Eggplant)
—
Above the Flatline (Timothy Ponce)
—
Dr. Kromm's GURPS Livejournal ("Sean ""Dr. Kromm"" Punch")
—
DF Whiterock (dripton)
—
Gaming Ballistic (Douglas Cole)
—
Mailanka's Musings (Daniel Dover)
—
Dungeons on Automatic (Kyle Norton)
—
PK's Game Recaps and Tidbits (PK Levine)
gurps_20181206/Merlin_Avery could not be parsed – is it empty?
—
Insidious GURPS Planning (Mr. Insidious)
—
The Collaborative Gamer (Joseph Linden)
—
GURPS Special Ops (Steve Jolly)
—
Sharrukin's Palace (Jon F. Zeigler)
—
The Gaming Musings of a Mad GM (Ken DeLyzer)
—
Armin's GCA 5 Blog (Armin Sykes)
—
Improvised Radio Theatre – With Dice (RogerBW)
—
Let's GURPS (Pseudonym)
—
Dungeon Fantastic (Peter Dell'Orto)
—
Daydreams of a Dragon (Dragondog)
gurps_20181206/Patrick_Burroughs could not be parsed – is it empty?
gurps_20181206/HansChristian_Vortisch could not be parsed – is it empty?
—
Ravens N' Pennies (Christopher R. Rice)