If you missed the campaign, or if you have more freedom now that the holiday season has come and gone: you can now Pre-Order Lost Hall of Tyr (2nd Edition) on Backerkit!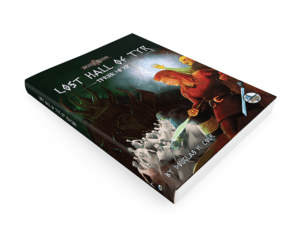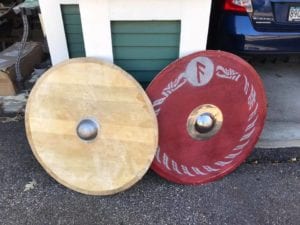 All the same products are available as during the campaign – the books, the bundles, even the Viking-style Battle Shields of Torengar.
The campaign was short and raised about $4,100, which was enough to secure a quality print run on 85# silk-coated paper. But it won't take many more backers doing pre-orders to push the campaign past the $6,000 stretch goal at which point we go for an offset print run.
What's that got to do with anything? It's a higher-quality book. Still softcover, but heavier paper (105# stock), and with a smyth-sewn (so it won't fall apart) lay-flat binding. That way it'll sit on your table for easy reference during games, and the pages are physically sewn into the book, so they won't fall out with repeated use.
If we actually reach $7500 . . . the book becomes a hardcover.
I'll admit it: I drool a bit about that one. Having a quality hardcover book sitting next to the Dragon Heresy Introductory Set on store shelves? It's doable. The softcover is even more doable, as it would only take another 60 or so folks to jump on board at the Print+PDF level, or only 30 picking up both the core book and the adventure.
Help spread the word and make it happen!