The process to finish up Citadel at Nordvorn enters the fulfillment phase today! While the main document isn't yet ready, PDFs of Fantastic Dungeon Grappling and Hall of Judgment will be finalized, updated, and distributed in PDF form over the weekend. Read on for details!
And if you missed the campaign, it's definitely not too late! Pre-orders are being taken on Backerkit right now, and will continue to be taken there until the print order is submitted the first week in May!
Check out the update history on Kickstarter, or see any other Nordvorn info here on Gaming Ballistic!
Locking Orders
So, today is the day! I have locked everyone's responses who have actually responded. That leaves 29 surveys incomplete, and (most importantly) 11 people who have physical product but have not completed the survey, and updated an address.
I can't send you your physical goods without a shipping address!
Charging Cards
Most – in fact, all but 10 – of the successfully-locked orders have also had your cards charged. That's 566 people . . . woot! If you're one of the 10, you'll get an email from Backerkit to look into it.
First Distribution: Fantastic Dungeon Grappling!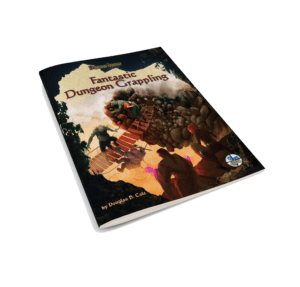 I'm still working on Norðvorn . . . but anyone who ordered Fantastic Dungeon Grappling will be seeing a note from me later today with the PDF in their email box.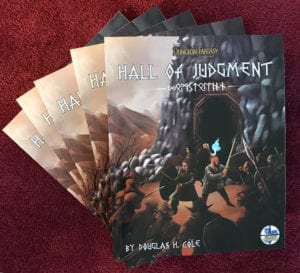 I will then try and quickly clean up Hall of Judgment, and get that ready to print. Again, that'll be in the next day or two.
So that begins the fulfillment phase. When all the initial PDFs are out, I'll take corrections and errata for a week or so, get the finalization, and then print! I'll also be getting the bookmarks ready. Those are a separate print job, but not to worry.
The good news is I got my UK VAT number, which means I can now import and distribute things for International folks per my original plan. That was a wrinkle, but one that's been smoothed. It impacted my prior Lost Hall of Tyr (2nd Edition) final phase more than y'all. But those books ship – after many trials and tribulations – this coming Tuesday!
I will be moving to finalize an order with my printer ASAP, and get things moving. It takes two weeks to order the paper . . . and I'm using the same paper throughout. That means the paper should be in hand May 6, so if I can get final files to them May 3, that satisfies the "no hiccups, no delays" staging. I will be attempting to get finals to them a few days earlier, but that's where we stand.