Today and tomorrow
This is all the time that you have to back the Dungeon Fantasy RPG Magic Items 2 "Quickstarter."
As of Thursday morning, with 34 hours to go, the project stands at 447 backers, for $10,181. That means there are another 212 backers needed to push it past the $15,000 stretch goal that pushes the book from 48 pages to 64 pages.
It's funded – the goal was $4,000 – so the 48 pager is going to happen. But $64 would be better. Don't wait on this one! And tell your friends.
A Note on Pricing
Not sure if you noticed, but Dungeon Fantasy Monsters 2 is $15 as a PDF and $25 for a softcover print book for 52 pages. The current product – Magic Items 2 – is being offered for only $10 for PDF, and $18 for both print and PDF.
This represents a significant discount for the period of the Kickstarter. I'd hazard that if you have any interest in this, you want it now. The PDF of DFRPG Monsters 2 was also $10, the Print + PDF bundle $20, in the last campaign.
Go back it. What are you waiting for?
Coming Soon from Gaming Ballistic
And as I noted in a prior comment, September is a good month for the Dungeon Fantasy RPG.
Coming perhaps as soon as next week to Kickstarter, three new products:
The Dragons of Rosgarth
This setting and adventure details the towns of Jarngarðr (the Iron Garden) and Midgard, and describes a great deal of trouble caused by some unusually motivated dragons. I've got cover art for this one already! By Kyle Norton.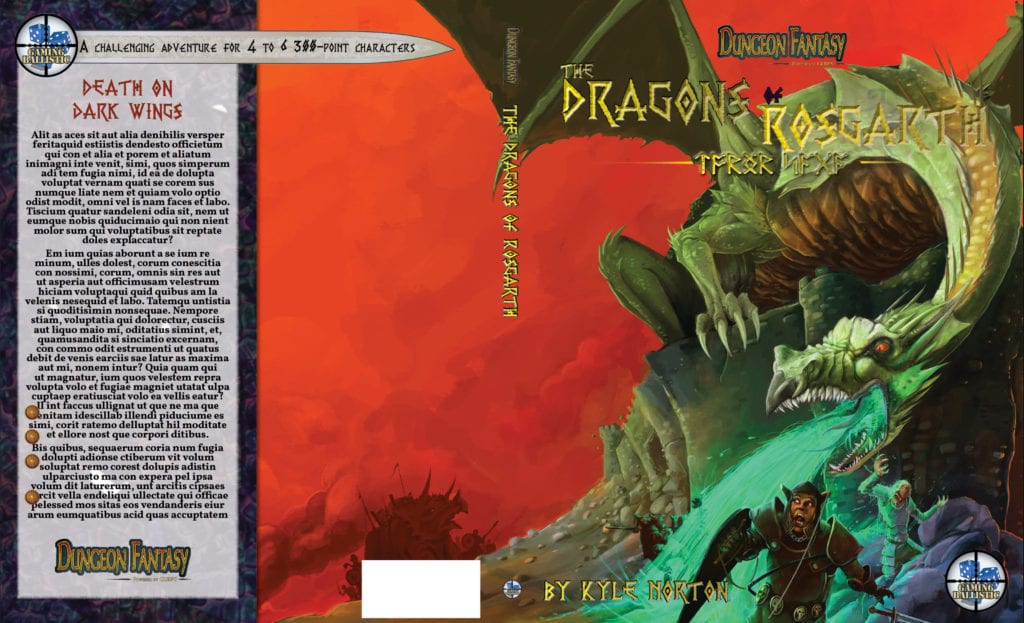 Forest's End
The first of the Nordlond Sagas that features actual dungeons, and more than one, for the Dungeon Fantasy RPG. This one will come in at 64 or 80 pages, I suspect. Details the settlement and area around the town of Forest's End, whose celebration of the Jarl's plans to make his claim of domain to the king are about to be rudely and fatally interrupted. By Merlin Avery.
No cover yet on this one, but here's a page of Nordvorn, but with a new border and banner that represents what the interior of Forest's End will look like.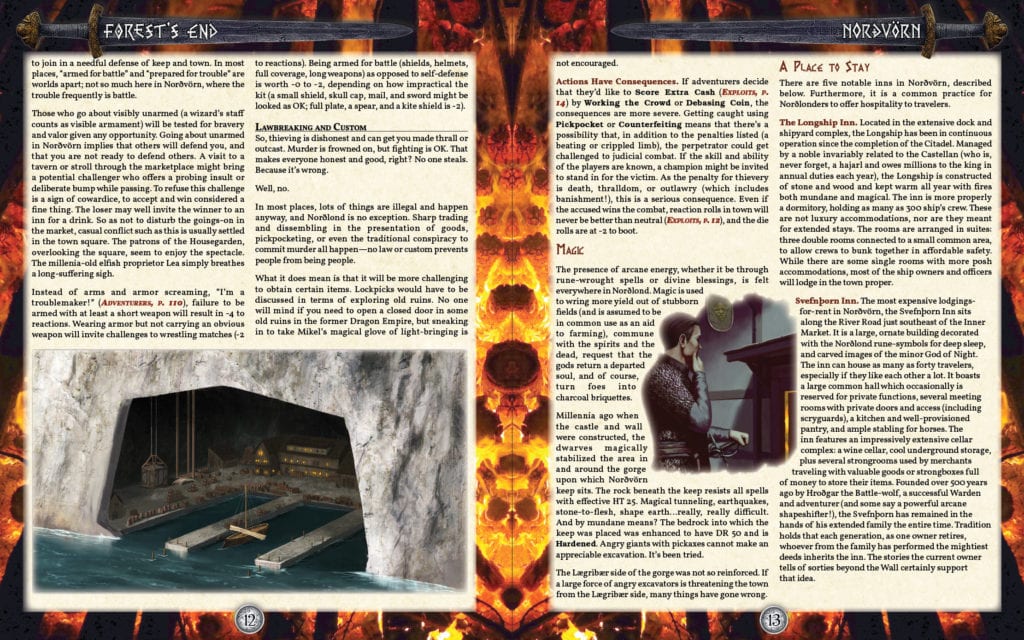 Races of Norðlond
Finally, this 16-page short supplement is planned around 16-18 lenses, from half-breeds to beast-men. Will include more data on some of the major cultures and races of Nordlond, such as the dwarves and true elves. By Kevin Smyth, who did yeoman's work in helping me build and adjust the 16 pre-gen characters in Hall of Judgment.
I suspect that the "get all three" pledge level for print and PDF will be about $65. The "all the Nordlond!" level, which gets you all three new books plus Hall of Judgment 2nd Edition, The Citadel at Nordvorn, and Fantastic Dungeon Grappling is likely $130, in case you missed the last few projects. Other levels will be available, including Retail pricing for bulk orders.
Watch for it!