This morning I locked existing orders and charged cards for the
Lost Hall of Tyr expanded/revised edition
. There were a few that didn't go through, and there are still six or seven folks that need to
complete their surveys
. Even so: if your card was charged, you should find an email with your digital downloads for your PDF files in your mailbox. I have one or two more files to send out: the map packs for those that got Hall of Judgment in digital form, which will be tonight. I'll also prep the map packs for the NEW maps for Lost Hall 2, and everyone will get those . . . they're done, while the final checks on the actual game PDF will be my task this weekend.
And so it begins.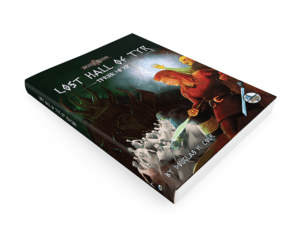 If you still want to get in on Lost Hall of Tyr – which is native to Dragon Heresy, but can be run in straight-up Fifth Edition, or with Swords & Wizardry – it's not too late! We are perhaps $450 in non-shipping pre-orders and add-ons from being able to upgrade to the offset print run, which will get still-heavier paper for the book, deliver a sewn and lay-flat binding, and print up enough copies to push the book into retail shelves to sit alongside of the Dragon Heresy core book.
Granted, that last one is mostly important for me, but the best way to see more Dragon Heresy product is to help people find it, play it, and talk about it!