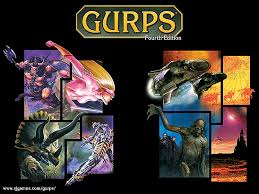 Thursday is GURPSDay, while it's been a light week for me (which is a shame, because the last Aeon game gave me a lot to think and talk about), others have been on the case, with 42 articles on the rolls thus far, as of 8:30pm CST.
May is GURPSDay recruiting month, I'm still hoping to attract more new blogs to the rolls. We've gotten a few new ones, such as Gentleman Gamer as of early this morning, but I know there are more out there. If you blog about GURPS with any regularity, adding your blog to the script is easy, free, and can only help your traffic.
Not really a GURPS blog, but if you missed +Rev. Pee Kitty 's live chat about After the End and other GURPS stuff, you can still check it out as a recording. It's about an hour, and he and Hunter had a good time answering questions. The discussion even led to a short post about the core AtE skills you shouldn't do without, so bonus content.
As always, if you're interested in having your blog consolidated here, navigate over to The Instructions Page and drop me a line.
—
Gentleman Gamer (Raoul)

—
Set Adrift on 3D6 (Conner)

—
Insidious GURPS Planning (Mr. Insidious)

—
Chain Link and Concrete (M. Eversberg II)

—
Southern Style GURPS (Chris Bower)

—
Just Roll 3d6 (Colin)

—
Let's GURPS (Pseudonym)

—
Ravens N' Pennies (Christopher R. Rice)

—
Mailanka's Musings (Daniel Dover)

—
No School Grognard (Mark Langsdorf)

—
Shooting Dice (Hans-Christian Vortisch)

—
Code by Clockwork (Jeff Demers)

—
Cursed -75 Points (BowToChris)

—
RPG Jutsu (Merlin Avery)

—
Fragments of the Last War (Bryan Timms)

—
Gaming Ballistic (Douglas Cole)

—
Northport (Denis McCarthy)

—
Orbital Vagaries (Christian Blouin)

—
Dungeon Fantastic (Peter Dell'Orto)

—
Game in the Brain (Justin Aquino)

—
Game Geekery ("Warren ""Mook"" Wilson")

—
Dark Paths and Wandered Roads (Jason Woollard)