Administration
From a company perspective, the coolest thing that happened is the finalization of the look of the website. There are still small tweaks to make, but I love the look. Now it's time to pivot to enabling e-Commerce so I can sell product and get money, likely by PayPal and Credit Card only, both enabled through PayPal.
I also installed JetPack, so sharing posts to G+, Reddit, Facebook, and Twitter is now a two-click process or so.
Next will be redirecting traffic from the old blog to this one.
Dungeon Grappling
I finished the last edits on the manuscript, adding rules for hurting people without injuring them (making them want to tap out). I think the new rule is a nice balance between a viable effect and loss of player agency.
Nathan provided me a turn on layout, which had more to like than to not like. The initial cut was an 8.5×8.5 form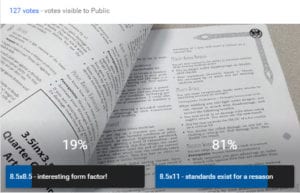 at (thus my poll), and I wasn't sure about that. Why even bother? Because it was a good idea – the document was laid out like a wrestling/boxing ring, and had other graphical features that made it thematically unified with grappling and fighting. But it worked better for modern fighting. Nathan and I came to an agreement to make it more about Dungeons and Fantasy feel, and we're going for Rev2 with a standard 8.5×11 format.
I also found out that the minimum size for perfect binding is about 50 pages. Saddle stitch below that. I idly mused getting quotes for a 6×9 format book in case things go even better than I hoped, but the cost to print will likely be quite large. Might still be doable if the demand is there, though. My attention was drawn to kickstarters that have stretch goals that trigger off of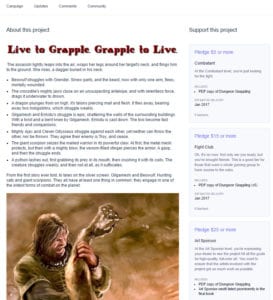 both backer count and number of folks. Still, that might be counterproductive in the end. But I'll consider it. But it will likely consume far more resources than the current plan. But print. Anyway, it's in the idea bin.
Speaking of that, much of my work this week on the book was spent preparing the Kickstarter page. The tools you get are quite rudimentary, and it took me a bit to realize how the good looking Kickstarters are made. I made a ton of progress by last night. Many graphics were created, and some public domain images were inserted (Yeah, that guy? Beowulf). I have much more to do, but it's worlds better than it was. I've also got a start on getting biographical information on my featured artists, some portfolio stuff to brag about for them, as well as my add-on contributors giving permission for me to make graphics for add-ons. Once I get the next round of layout concepts, I should be able to also make some graphics for reward levels, which will be cleaner than the text that's there now.
So I should have a good-looking pitch by the end of the weekend, ready to submit for approval. I need to contact Backerkit prior to launch.
The indexing should also start this weekend. Once we get an initial pass, the playtester crew that's working Dragon Heresy can also take a look at the index and say "Hey, where is X?" or "This really doesn't need to be there."
The core bits of actual content are writing and editing, layout, art, and indexing. The core bits of admin for the Kickstarter are the reward levels, the add-ons, the stretch goals, the story, and the video. The rewards levels, stretch goals, and add-ons are all defined. Now it's a matter of presentation.
Dragon Heresy
Just because my efforts are mostly bent on Dungeon Grappling doesn't mean nothing was done on Dragon Heresy.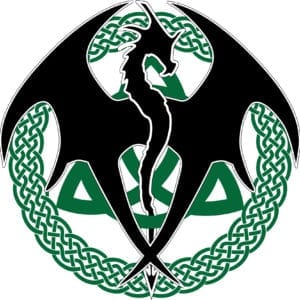 I continue to receive gorgeous art from Gennifer and Juan, and I posted a sneak peak of the art a few days ago. I got another finished product from Gennifer, made a request for a change, got it, and paid her.
If Dungeon Grappling drastically over-funds – wishful thinking, perhaps, but we'll see – nearly all of that money will be redirected to Dragon Heresy, and most of that will go to two places: editing and art.
I also got some more monster writeups – one of my playtesters is huge into animals, and offered to do my Beasts animal type. The last big section that needs doing is the Monstrosities. The rest are a few here, a few there.
I'm not going to meet my "finish the DH manuscript by the end of October" deadline, though – that's three days away and all of my time will certainly be spent getting Dungeon Grappling ready for launch. But I don't feel stressed about it, because when DG is ready for launch, I will piviot smoothly to finishing up The Book of Deeds.
At that point, I'll have over 400,000 words of manuscript to read, re-read, tune, edit, and otherwise ensure that a project written over the course of nine months is internally consistent and that nothing was missed as I moved from section to section. Anything that says "and in the next key section . . . " and just ends there, for example. That would be bad.