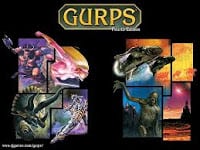 Thursday is GURPSDay, and now we face that odd time between Turkey Day and Christmas, where we're all supposed to pretend to get stuff done, but really?
Well, in any case I will be in Thailand for the next two weeks, so the next two GURPSDays will be handled by my lovely wife. She will be able to run the script (maybe) once during the day, and then at night. So plan ahead!
Below you can find the blog activity from the last seven days.
Over the last week as of 8:30pm there have been 50 GURPS-related posts from our list of 73 blogs that have popped up on the radar screen. In fact, I know that there are a few more (check the Cross-Post from Let's GURPS) but they haven't all tagged their posts as GURPS yet. But they will. Oh, yes. They will.
So a once and future welcome to Apocalyptic Analysis, Blogging at Default, Random Thoughts about GURPS: The Blog, and Tabletop Ramblings of a High-Tech Lowlife.
Importantly, SJG is running a 40% off sale on Warehouse 23 (some of the blogs mention this), and have seemingly embraced Print-on-Demand to bring back selected books in hardcover. This is good, but it's also an experiment – if successful, we get more. If not, probably not.
Not every blog posts about GURPS every week, but some are ridiculously prolific! The list is randomized, so different bloggers will be highlighted at the top of the post each week.
As always, if you're interested in having your blog consolidated here, navigate over to The Instructions Page and drop me a line.
—
Apocalyptic Analysis (Jake Bernstein)
—
Octopus Carnival (Ubiratan Pires Alberton)
—
The Collaborative Gamer (Joseph Linden)
—
A Literate Programmer's Blog (The Literate Programmer)
—
MoeLane.com (Moe Lane)
—
Mailanka's Musings (Daniel Dover)
—
RogerBW's Blog (Roger Bell-West)
—
Gaming Ballistic (Douglas Cole)
—
Let's GURPS (Pseudonym)
—
Dungeon Fantastic (Peter Dell'Orto)
—
Dr. Kromm's GURPS Livejournal ("Sean ""Dr. Kromm"" Punch")
—
Just Roll 3d6 (Colin)
—
Game Geekery ("Warren ""Mook"" Wilson")
—
Improvised Radio Theatre – With Dice (RogerBW)
—
Hard Maths (CTA)
—
Dark Paths and Wandered Roads (Jason Woollard)
—
Generic Universal Eggplant (Enraged Eggplant)
—
Ravens N' Pennies (Christopher R. Rice)