This has been, bar none, the biggest month in Gaming Ballistic's short existence.  A lot happened!
These updates are going to come monthly now, so that they're more interesting.
Admin
Daniel and I turned on the Gaming Ballistic web store. Right now, there are only two items on there: the Dungeon Grappling PDF and the Art of Dungeon Grappling PDF. Those were the easy ones, where I knew if I got an order, I could fulfill it by simple download.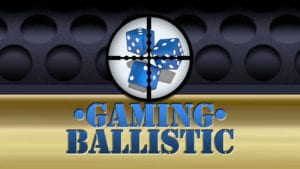 I now have some physical inventory in my office for orders of a physical copy of Dungeon Grappling. So if someone were to buy one, I could ship it to them. I will likely "turn on" orders for physical copies this weekend. I will need to work on shipping; orders may well be "US-only" for a bit, with "not in the US" referred to DTRPG, since they have the best fulfillment to the rest of world, as far as I can tell. Amazon/CreateSpace mostly serves the US, Canada, and Mexico, I think.
Other than that, and a very interesting "maybe one day" conversation with another game company owner, the company administrative end of things has been quiet.
Dragon Heresy
While this will certainly be the flagship product for Gaming Ballistic once it's done, right now, it's still being worked.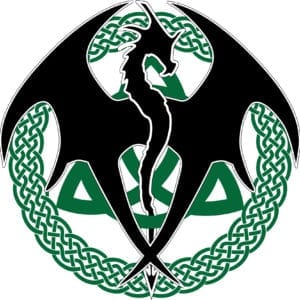 Nonetheless, major progress was made. You know, that's too passive: I finished the darn manuscript, and sent it off to Ken Hite for editing. This should take a few months (but less than two). Even my father got in on the game, doing a line/grammar edit of The Book of Heroes.
We had a bit of a contractor change, in that the fine gentleman who was helping me with Dragon Heresy's basic layout in order to learn InDesign – so mutually beneficial – has decided to drop out of the project. This was a mutually acceptable and beneficial decision. I asked him if he thought that he could meet the demands and timing and quality requirements of a 425,000-word, two-or-three volume manuscript that needs to look at least as good as Dungeon Grappling. He thought about it, and his other commitments (which are extremely non-trivial), and felt he couldn't live up to that expectation. That's really outstanding – it's good to know what you can handle, and not, and be honest about it.
So I'm looking for bids for layout, and already have four fine contenders, three of which whose work I've seen and would easily fit the bill. I'm not going  to dawdle on this one.
I've also decided to self-fund the editing and layout, much as I did for Dragon Heresy. That knocks about $20K off the Kickstarter ask, which is a big deal. It also means that the only thing I'm really Kickstarting for is art, which again will make the process go faster, and cost less money.
Now that the manuscript has been finished, Indexing has also already started. I use a system that is probably duplicated elsewhere but which I created myself to allow the bulk of the work to be completed in parallel with editing.
The real question now in my mind is "two or three books?" The current manuscript is written in two books: 197,000 words of The Book of Heroes and 229,000 words of The Book of Deeds. But 141,000 words of Deeds is basically the Bestiary. That's a 260-page book by itself. If I could allocate "not monsters" properly, that'd leave me with two books, each of 264 pages, which is respectable and digestible. It also allows the players to have the character reference open, the GM to have the rules open, and also referencing a monster entry without losing the page for combat, as an example.
That would entail doing something odd like pulling all of the combat rules into Deeds, which makes sense thematically. It breaks the model used in Fifth Edition where you can really play the game without the DMG, using only the PH. I'm not sure that's a huge problem, given how tied (at the moment) the setting is to the rules. At least for the Kickstarter, I'd need to move all of the books at once, because they all need the same treatment: art, layout, indexing, etc. So the goals of the KS are a bit different than the goals of retail sales. "Get the books made," and that's an all or nothing kind of deal.
In any case, I need not decide now. The composition and content of the books can be decided later. Heck, for that matter, I could potentially use different formats, with a large 8.5×11 365-page Book of Heroes, a large 8.5×11 264 page Book of Foes, and the remaining 88,000 words as a 6×9 volume with probably around 300 pages.
Anyway, major progress on Dragon Heresy has been, and continues to be made.
Well, this is the biggest news.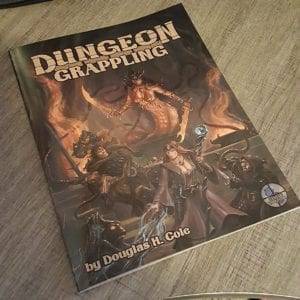 I could use a lot of words, but I don't have to: Dungeon Grappling is a live product, and the print copies have shipped to the backers. One backer in the United Kingdom already has his book, which means that fulfillment of my promised goods is looking to be three months ahead of schedule.
Let me say that again, with all modesty filters off: I delivered a professional-grade product on my first Kickstarter, with PDF promised at the end of February and print – which was added late in the game – promised by the end of April. Physical product is reaching customers now, and will likely continue to do so through February for far-flung locations that take a while to arrive. But every single backer that wanted physical product has their ask on the way to them.
We also fixed some things in the final version: there were some missing bookmarks, some editing misses in tense and clarity, and some things like the Index that were fine in content (thanks to Christopher Rice) but not in format (my fault). So Nathan and I fixed that too (thanks Nathan!) and now the index is much, much more usable.
We also released it in MOBI and EPUB formats, which are going to be available on my website, again this weekend.
Finally, I busted through the really aggravating CreateSpace format guidelines for margins to produce a PDF-POD layout acceptable to them. This actually involved changing the layout of some of the background graphics, which I had to do myself. Well, wanted to do myself, as a skill-building exercise. But I did it, learned a lot about InDesign in the process, and have ordered a proof copy. Word to the wise: from a "order lots of copies" perspective, in the book size and type I'm doing (52 pages, softcover, full-color), CreateSpace is maybe 60% the price as DriveThruRPG. Shipping is cheaper too. But the royalties aren't that much different (less than $0.50 per book) between the two. I have a proof copy on the way, so we'll talk about quality in the February update.
Next up is getting the book also listed at TableTop Library and getting the eBook at Amazon, perhaps.
The biggest disappointment in the entire process is, well, very few folks are buying the book just yet. I'm hoping that my backers will be plugging it and giving play reports, but my conversion of "product available" to "sales" is poor at the moment. My marketing outreach and "who wants my stuff" is clearly the weakest part of my business right now, and that has to change.
I have license to use the images I got for Dungeon Grappling as much as I want (except for the background maps), and Eric Diaz, in his review of Dungeon Grappling as a PDF, noted that the art was perhaps under-used, because many images are small (because they had to be). So I created, on my own, an art book, featuring the work of the four
artists that contributed to the interior art. The spectacular cover art will be made available in poster-sized prints as well, through another venue. Michael and I are working that out.
The art book, though, is a unique beast. I get basically nothing for it. 50% of the proceeds I will donate to St Jude's Children's Research Hospital. 35% goes to bonus payments for the artists in the book. 10% goes to sales tax and credit card fees. 5% goes to Gaming Ballistic.
Again, no one's nibbling on this yet, but they should.
Financials
Now that the project is completed, I can report on the financials of the entire thing.
First, the net/net: I had $5,818.96 in expenses for the Dungeon Grappling product, and to date I have brought in $5,393.92 in revenue, for a net "DG specific" of -$425. That net includes $419 of product that I bought – 50 copies of the final book – for me to hold and sell. So excluding those, Dungeon Grappling is approximately $6 in the red.
The basic breakdown of expenses specific to Dungeon Grappling, rounded to the nearest dollar:
Art and Layout (interior and cover): $2,731
Indexing: $155
Kickstarter Prep (3D art): $309
Printing and Shipping: $1,899
Royalties and Contributor Payments: $282
Kickstarter and Backerkit fees on transactions: $442
On the Revenue side, it was
Kickstarter: $4850
Backerkit: $543
So if I can move 23 copies of the stash I bought for myself, the entire project will have broken even.
Well, sort of.
I have also spent about $3,600 on Dragon Heresy, and another $1,420 on "General Expenses," which includes legal, buying video software, ISBN numbers, and domain expenses, plus an ongoing expense from Adobe for the licence to use InDesign/Photoshop, etc.
Overall, since inception, I've spent about $5,200 more than I've taken in, but a lot of that is pre-spend to get Dragon Heresy ready, and the majority of the other pool were one-time legal expenses for contract drafts and company setup.
Overall, while I'm not happy with the sales velocity of Dungeon Grappling just yet, it could be a lot worse. Breaking even on project-specific costs for my first product ever isn't a bad goal. Still, including Kickstarter and Backerkit, plus the sales of DG on DTRPG, I've distributed 300 copies of Dungeon Grappling via PDF, and another 125 in print.
Coming in 2017
There are two products I expect to bring to life in 2017: Dragon Heresy and an unnamed book project that I'm using to improve my layout skills. I hope Dragon Heresy is a huge success. I'll be satisfied to sell a few copies of the other one.
If you've read this far, thanks for paying attention!