Reading an article on the differences between Pathfinder and Starfinder.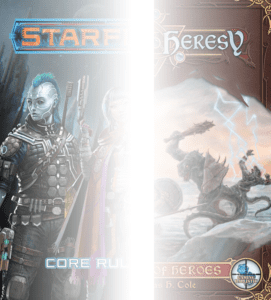 Well, I guess I was on to something with the Dragon Heresy Wounds/Vigor split.
I'm sure Starfinder has been in development for a long, long time. And I'm also sure I came up with Wounds/Vigor independently, though someone later pointed it out that Wounds and Vitality had long been tucked into an optional rule in the PFRPG Core book.
Still: let me echo that I think it's absolutely the right call. Differentiating between "stuff that makes you bleed" and "reserve of skill, stamina, luck, and divine favor" as hit points were described on p. 82 of the original Dungeon Masters' Guide by Gygax is, to me, incredibly useful and helps solve some real problems, especially when you push the game engine into the firearm era.
For now: yay, parallel evolution.
Also: Clearly Starfinder came out first, because, well, Paizo has resources and staff and I've got me. But Dragon Heresy, that rough beast, continues to move forward, slouching towards Bethlehem to be born, etc.