The full-color backer reward for the PDF for the Dragon Heresy Introductory Set was distributed over the weekend. Pushing it out on June 17 puts it in about six weeks (44 days, in fact) ahead of the promised date. Am I proud of that?
Yes. Yes I am.
But I'm not done until the books are in your hands (and mine!).
Print Production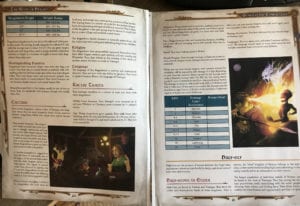 So, I set the final print files to render this morning, a process which takes about an hour or so to complete even on my Ryzen 2700X/GeForce 1070 setup. (I think I need more RAM and an NVMe SSD instead of my current one if I'm going to make more books like this).
It's a holiday in Hong Kong, so taking the extra day and sleeping on it let me make a few corrections to the text that slipped through (I got some advice on my faux-Icelandic from an actual Icelander, including the fact that what I thought was "leg-lizard" – fiðrildi and fiðrildar – actually translates to "butterfly."
Curse you, Google Translate!
So they're going to be renamed göngeðla, (GOYNG-edthla) which is "tunnel lizard." Which is what they are, so there we go. I also added the weight for deer ('cause they're tasty, tasty mobile meat) and a few bits of other minor stuff.
I'll spool out an update in a week or so for the PDF, probably about the same time I upload the PDF to my website and DriveThru.
Schedule Non-Update
Non-update? Well, I'm on schedule, so there's not much to change.
Tonight at about 6pm CST I will upload a roughly 200MB file to the printer's FTP server. They will "pre-flight" the document (which I already did in InDesign) and hopefully tell me that all my settings were correct.
And if things go wrong? if we have some errors on p. 128?
It's not too late. I can send single pages all the way through the proofing process. I, of course, hope to not have to do this.
Even so, it will be 4-6 weeks for proofing and setup and then printing. Somewhere in that 5th-6th week (end of July) the printing will be done and they go "on the boat" (literally, in this case) and will make the transit to the USA. My understanding is that there's a GPS tracker on said ship, so monday updates will feature a nifty screenshot of "where are your games right now?"
As noted, a smaller box will get shipped, also by ocean freight, to Korea, where they'll be delivered to a fulfillment partner who does this sort of thing as a favor to indie gamers. There are maybe 30-50 books (so far!) that will go this route.
So another six to eight weeks after THAT, they'll have arrived on your doorsteps.
As always, I will endeavor to exercise Project Management Fu to pull this in if possible, and mitigate delays where it's not.
Pre-Order if You Want This to Not-the-USA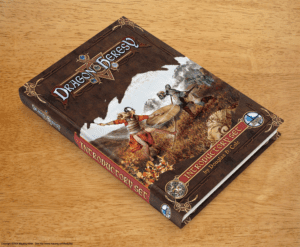 As reviews and interest come in, you might think to yourself "Where can I get this new thing?"
Right now, pre-orders are being hosted on Backerkit. Real Soon now, that will transition to my own website, as well as other places.
I will say this: if you're not from the USA, a pre-order is the very best way to get the hardback. In 4-6 weeks, the printing process will be completed, and books will roll out onto the container ship.
But another, smaller set of boxes will ship to a contact in Korea, who will then put them in the mail to their final not-the-USA destinations from there. Shipping will be faster and much, much less than within the USA.
So if you're interested in the 288-page, 128gsm paper, sewn-binding, full-color, round back hardcover book (with spot finish!) that will hopefully have production values worthy of Symbaroum (the touchstone I'm trying to approximate for quality) please pre-order your hardcover now!
Hall of Judgment
I would do myself a disservice if I didn't mention that I've got another project launching tomorrow. This is the first-every third-party license for the Dungeon Fantasy Roleplaying Game (Powered by GURPS) from Steve Jackson Games, and I got it.
It launches tomorrow, and if you're also a GURPS player, you'll want to check it out.
More from Dragon Heresy?
Well, yeah.
I've got two self-written mini- or micro-settings in the hopper for Level 1-5 support. There are a lot of Level 1-5 options for character classes, races, and of course Feats that didn't make the cut that I will likely put into a chargen expansion volume. A fellow gamer and writer wants to do an adventure in my setting, with my game, and I'm thrilled about that.
I'll also finally be standing up a website dedicated to Dragon Heresy in the next few weeks as well.
OK. That's it for Monday. Hope you enjoy the game!