While counting your chickens is famously unwise,
we just passed $3,000
, having picked up roughly $500 in the last day. We've also got something like 140 folks who are following the Lost Hall of Tyr 2e campaign but haven't yet pledged. It's been a great 24 hours or so for the Kickstarter. Where does that leave us?
We'll hit the digital print run goal at $3500, which requires about 40 PDF pledges or only 16 people to come in at the print plus PDF level.
The $3500 level will turn it into a very nice book – same quality as Hall of Judgment.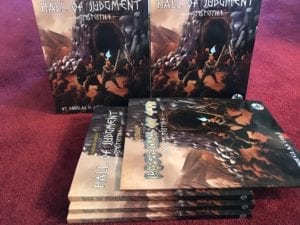 The Big Offset Print Run isn't out of reach, though a lot would have to happen in the next 24-36 hours. But if ALL 140 folks came in and went for a print and PDF book, well, that actually gets us the hardcover.
The number of backers required for "victory" here is quite small. 250 at the current average pledge of $30 gets us the hardcover. Can't do it without you. Spread the word, and let's make it happen.