Gaming Ballistic started as a blog in late 2012, and then became a company in its own right in October 2016, as the company formally launched its first product, Dungeon Grappling.
This year, 2018, marks the second full year of the company's operation. It still has but one person doing all of the administrative work: me. During 2018, Gaming Ballistic existed as a vehicle to deliver Douglas' game ideas, but that will change in 2019.
Gaming Ballistic is a producer of games and entertainment.
2017 Recap and Goals for 2018
In 2017, Gaming Ballistic posted a nearly $20,000 loss. This was mostly expected, since I made big investments in 2017 in Dragon Heresy, and my product focus was on small releases.
My stated goals for 2018 were
Release Dragon Heresy
Increase revenue and marketing reach
Write "The Hunted Lands," a mini-setting for the DH Intro Set
Attend at least two conventions, in Iceland and Wisconsin
Make and Sell more shields
Five unannounced secret projects
Increase blogging of new content
Move Venture Beyond ahead
That was a tall order. How did I do?
2018 Executive Summary
To hit the highlights:
Gaming Ballistic increased revenue by over 450% in 2018 over 2017!
I still lost about $6,000 overall; I know where the losses were, and they're understandable and OK for a company starting out
2019 has over 15 products queued up, including one in Kickstarter right now, and could be amazing
Dragon Heresy, Hall of Judgment, and Lost Hall of Tyr (2nd Edition) are all gorgeous
I have launched and delivered five Kickstarters either early or on time
The High Points
Gaming Ballistic, oddly enough, makes games. Roleplaying games, to be precise. Ultimately, making and selling such things are why GB exists.
Fortunately, this year I managed to get three products into the launch tube.
Dragon Heresy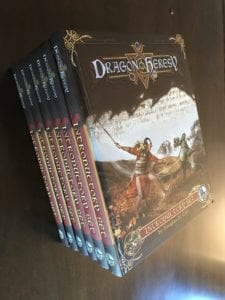 The big goal after 2017 was to hack down my monumental manuscript for the Dragon Heresy RPG into a single book. I got this done, Kickstarted it, and the project went very well. I did not blow the doors off the house and attract 1,000 backers and $100,000 . . . but I did, at literally the last few minutes of the campaign, smash through the $16,000 stretch goal that got me an offset print run! As a result, I managed to print 1,500 copies of what is one of the best-looking games I've handled. Most people who see it comment very favorably on its production values. That was a well-run campaign, and I spared no expense in getting the book done.
Dungeon Fantasy RPG License!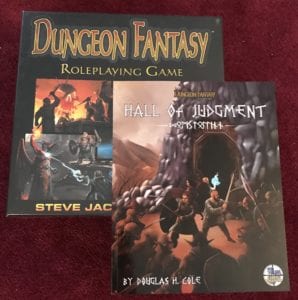 The really big news for 2018 was that Gaming Ballistic was granted a license to convert Lost Hall of Tyr, a 64-page adventure for 5e, into Hall of Judgment, a mildly de-Norsed adventure for the Dungeon Fantasy RPG. The project went incredibly well, crushing my prior record for number of backers, and making very nearly as much money (short by $1000) as the far more expensive Dragon Heresy. This one was, and remains, profitable, and it has been very well reviewed.
This went very well. Very well. It went so well that as Sean noted in his foreword to the upcoming Citadel at Norðvorn, it changed the course of SJG's intent for the Dungeon Fantasy RPG, and landed me three additional projects to boot.
GameHole Con
I also hit my first convention since GenCon in 2017. I ran Hall of Judgment twice, played games with Matt Finch, and Steve Jackson, when I asked how Gaming Ballistic could work more with SJG, said "Write for The Fantasy Trip."
More on that later. I missed out on a booth there for 2019, but I'll be going back.
Shields and Weapons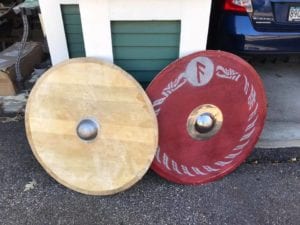 The viking shields were a case study in research and improvement. I sold six to eight shields in 2018, including during my Kickstarters. Mostly, in fact, during the Dragon Heresy Kickstarter. But I also made a lot of investment in time and experimentation, eventually producing a pretty darn awesome hide faced-and-backed shield that even my picky Viking Martial Arts instructor approved for use in class. The pure satisfaction of making these right is a joy to me.
I also dabbled in making wooden wasters – practice swords – for class. These were not for sale (yet), but they were a big hit. As soon as I get a breather I'll be making a bunch more of these for my Asfolk classmates.
Lost Hall of Tyr (2nd Edition)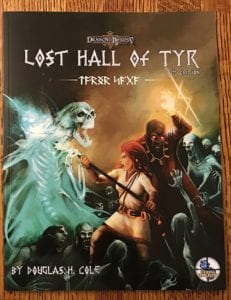 This is cheating a bit, but I launched and funded a third Kickstarter in December 2018. While financially, it did not meet the goals I set for it mentally, even if I couldn't fund an offset print run, the book that came from the campaign is beautiful. Glynn did a remarkable job with the maps. All 1st Edition backers got the upgraded PDF for free, as promised.
It was also my first chance to test out the dual-print-run strategy I'd concocted to beat international shipping. Thus far, it's going well. I'll tell you more in a month.
Kickstarter Delivery
Not to put too fine a point on it, but as of the end of 2018, all of GB's Kickstarters were delivered on time or early. People are saying nice things about me in that regard.
Off Target: Challenges and Missteps
Each year brings opportunities for improvement, and some missed steps.
Goals Not Met
The big stuff that I feel I didn't do well is increase my blogging of new content, really extend my marketing reach, and move Venture Beyond along.
Companies live and die by the number of folks they can draw into their products. I've got some great stuff on offer, but my mailing list and ability to attract new customers was not what it needed to be by the end of the year.
Lost Hall of Tyr Goes Thud
I took a hard look at my prior Kickstarters for Dragon Heresy, Dungeon Grappling, and the original Lost Hall. I identified over 200 people that had backed Dragon Heresy but not the original Lost Hall. Then there were a bunch more that had backed Lost Hall in PDF only, and still more that had only gone for Dungeon Grappling. I figured I could hit the $6,000 softcover, lay-flat binding easy. The only real question was if we could scare up the 300 backers at $25 each (ish) to hit the hardcover printing.
Well, apparently the real question was something else. Roughly 131 folks, which is about 1/3 of the number that backed Dragon Heresy, came on board. We got a great digital print run (and I discovered a great domestic short-run printer to deliver it domestically).
But LHoT2e was a great example of coming back down to earth. I missed the market on this really, really badly.
Burnout
I launched Hall of Judgment the day after the PDF for Dragon Heresy went to the printers. I delivered both on time or early. Then I launched Lost Hall of Tyr 2e, thinking I'd step up my volume game, and it fell pretty flat. Sales of Dragon Heresy seemed lukewarm at best.
I really considered just hanging it up at that point. But then I got word from SJG that they were giving me a pretty awesome license to write TFT projects, and of course I had Nordvorn and two more projects in the hopper . . . So I committed to going full throttle in 2019.
2018 Financial Summary
Gaming Ballistic overall was not profitable in 2018, losing about $6,250 over the year.
Let me tell you why this is a tremendously good thing.
Revenue: Over 450% Improvement
First up: GB took in over $41,000 in sales and other income in 2018, more than 5.5x the prior year.
Actually, that's pretty much it. I had tremendous revenue growth this year. New goal to beat! The good news/bad news is that I've got something like 1,200 copies of Dragon Heresy left to sell. Every single sale goes right to profit; they're sunk costs at this point. One good review in the right place, and those can move quickly. Good potential here, but my watchword was revenue for 2018, and I hit that mark.
Costs: 85% Increase
My costs went up too, but much of that was in buying books. It took nearly $19,000 to bring Dragon Heresy home (and nearly 2/3 of that was printing the thing and getting it to the USA, and shipping it to backers).
I also spent nearly $2,000 in 2018 on Lost Hall 2e, and the maybe $5,000 to $6,000 in revenue that came from Kickstarter and Backerkit hasn't come in yet. So 2019 is already looking nice.
Places to improve: I dropped a lot of money on raw materials for shields, backing other folks' Kickstarters, and I spent quite a bit setting myself up with a computer worthy of graphic design and layout.
Adobe is still bloody expensive ($660 per year!) and I am strongly considering a move to Affinity Publisher and Photo. One-time fees for the win.
Net: Still Lost Money
A company's business is to make money doing cool stuff. I lost money doing cool stuff, but I lost a LOT less, maybe 3x, than the prior year.
In My Sights: 2019 Goals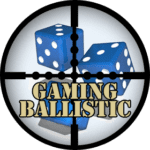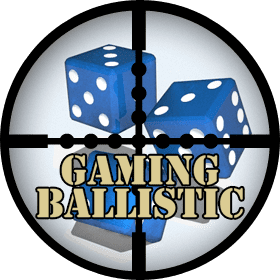 Well, if 2018 was the year of revenue, 2019 needs to be the year of profit and growth.
I'm going to be brief here.
I've got three Dungeon Fantasy RPG products in queue. The Citadel at Nordvorn is in Kickstarter right now, and 92% funded with two weeks to go.
The Dragons of Rosgarth, by Kyle Norton, and Forest's End, by Merlin Avery will come out later this year. Both are more traditional adventures, and both will Kickstart
Fantastic Dungeon Grappling, a short independent take on the 4-page rules from Hall of Judgment, is nearly done. That one won't go to Kickstarter, mostly because of bandwidth!
I have a licence to produce a minimum of 10 short adventures for The Fantasy Trip. David Pulver and Christopher R. Rice are hard at work, having completed one each and closing in on the second. That will Kickstart in April, and hopefully begin a series of once-a-month releases. We'll see how the first KS goes, though
James Spahn is writing a viking-flavored OSR adventure for me. I can't wait to see it.
I still need to do more original content publishing on my blog
I need to be profitable in 2019
That's it. 2018 was much improved from 2017 . . . and 2019 could be amazing.