Excellent progress
The Citadel at Nordvorn is doing very nicely. A bit more each day, and just shy of $1500 to the first stretch goal. 405 actual backers, which exceeds where we were on Hall of Judgment four days before the campaign closed . . . and we have twice as much time remaining!
Speaking of those last four days on HoJ . . . we added 122 backers and $3300 in that period. So that's one measure of where we might get. On the other side, there's $12,500 in latent backers – those following but not pledged yet pledged! Though we probably wont' get all of them, I hope to get many!  And note that total, plus the actual pledges of about $14,500, significantly eclipses the $25,000 stretch goal by quite a lot.
Do I smell offset printing in the air?
Cover! and Art Direction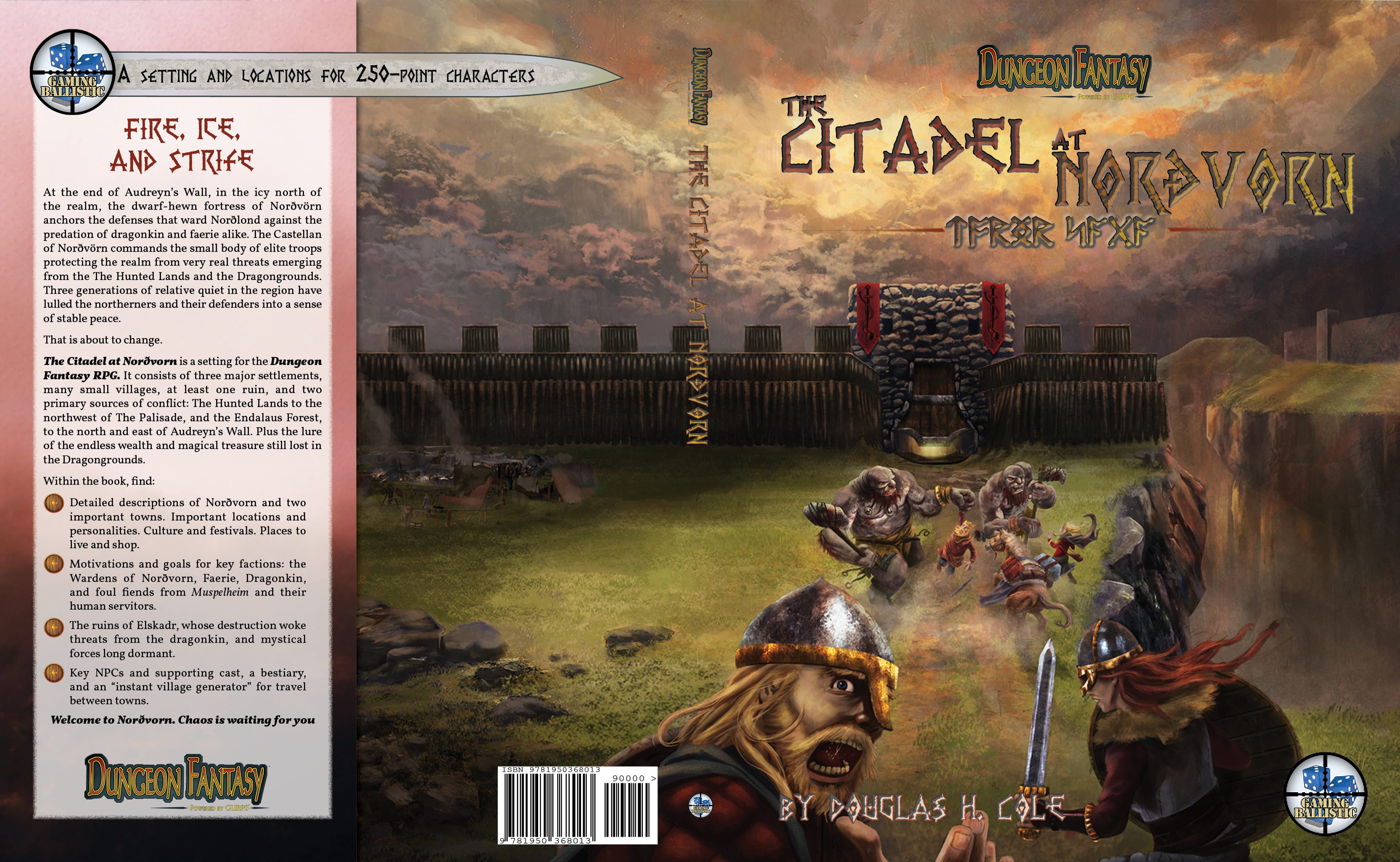 Rick turned in his final version of the cover (and got paid that day, because when folks do good work for you, you pay them right away).
I've put in some draft "ad copy" for the left-hand side of the book. It's being revised and edited for maximum "bite" but as is, this cover could go to print. I believe even the ISBN is accurate.
I've also given out all of the art direction for the parts of the book that are complete, and sent contracts to all of my artists. All have responded positively to the suggestions, and a few have come right back with "but how about this instead?" which I love. These guys are pros . . . I am one level above stick figures.
So we should see some really fine, fine pieces from the team, and I'm looking forward to seeing them develop.
Until then . . . keep spreading the word about the Citadel at Nordvorn, and back Dungeon Fantasy Monsters 2 as well!