Unarmed Lethal Combat
Unarmed combat is a bit of the bastard stepchild of D&D games, and deservedly so . . . at least relative to weapons. While a dagger does 1d4, at least in Fifth Edition (and therefore in Dragon Heresy), unarmed strikes do a single point of damage, modified by your Strength bonus. That can be non-trivial, of course: a strong unarmed blow by a STR 18-20 will do 5-6 points of damage, equivalent to a weaker person (STR 10) with a 1d10 weapon.
Monks, of course, subvert this with their martial arts damage: their strikes are weapons. Equivalent to daggers at low level, and versatile longswords at high. That's cool. It also puts most of the focus where it should be: fists are, by and large, inferior weapons relative to purpose-built killing devices. Having an unarmed blow do 0-2 points of damage (1d3-1, for example) makes sense.
Problem is, that makes all combat lethal: why do only one point of base damage when you can do 2d6? Worse – from a reality perspective – is the concept of beating the snot out of someone with a fist or sword somehow being "non lethal" or "subdual" damage, where it doesn't hurt much. One of the selling points of Dungeon Grappling is that it enables some quality unarmed combat, and interesting bar brawls that don't have to be lethal.
Speaking of Bar Brawls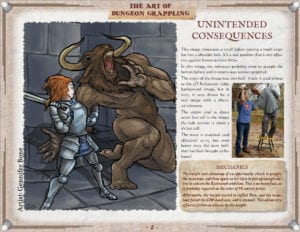 Reality aside: during the Tavern Chat last night, I got into a fun discussion with Smokestack Jones about the requirement for nonlethal unarmed combat in games. Especially cinematic fantasy games like D&D variants. A spot of fisticuffs in a bar, perhaps adding grappling, perhaps not, is a staple of the genre. Reality aside – and we're talking elves and half-dragons and hobbits here, so yeah, reality aside – having entertaining unarmed combat is kinda important.
We compared a few other game mechanics. He mentioned one (whose name I forget) that used two tracks: wounds and bruises. Well. That reminded me of wounds and vigor from Dragon Heresy, but mechanically, vigor is all the defenses and luck and not getting hit that you do in a fight, not shrugging off blunt trauma and non-lethal blows.
We also talked about Champions/Hero System, where if you rolled a 6 on the dice, you took 2 body, 2-5 was 1, and 1 was none – so every STUN attack had a bit of a body component to it. That made all kinds of sense to both of us too.
So. An alternate wound track. Spill-over from non-lethal to lethal damage. Good, good. Nice concepts here, well tested in other games. Oh, also: ideally, no extra rolls. Extra rolls slow things down.
I'll mostly talk about this for Fifth Edition, as it's what I'm most familiar with. I'll refer to Swords & Wizardry as we go. Continue reading "Unarmed Combat in D&D" →