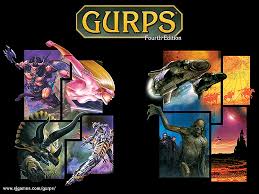 Thursday is GURPSDay, and below you can find the blog activity from the last seven days.
Over the last week, as of the end of the day on Thursday Central Time, there have been 40 GURPS-related posts as of 4pm from our list of 62 blogs that have popped up on the radar screen. (We picked up another one today! MoeLane.com.)
It's also my wife's birthday. Happy birthday, Alina!
We're starting to hear rumblings about Sean's new project, too. We know there was a big staff meeting, that it's Dungeon Fantasy related, and that we should look for more information in the coming week.
Also: Pyramid was released today: Pyramid 3/94: Spaceships 3
Not every blog posts about GURPS every week, but some are ridiculously prolific! The list is randomized, so different bloggers will be highlighted at the top of the post each week.
As always, if you're interested in having your blog consolidated here, navigate over to The Instructions Page and drop me a line.
—
MoeLane.com (Moe Lane)

—
Ravens N' Pennies (Christopher R. Rice)

—
Just Roll 3d6 (Colin)

—
PK's Game Recaps and Tidbits (PK Levine)

—
Chain Link and Concrete (M. Eversberg II)

—
Don't Forget Your Boots (Mitch French)

—
Worlds Beyond Earth (Derrick White)

—
Dr. Kromm's GURPS Livejournal ("Sean ""Dr. Kromm"" Punch")

—
Game Geekery ("Warren ""Mook"" Wilson")

—
Gaming Ballistic (Douglas Cole)

—
No School Grognard (Mark Langsdorf)

—
Insidious GURPS Planning (Mr. Insidious)

—
Mailanka's Musings (Daniel Dover)

—
Dark Paths and Wandered Roads (Jason Woollard)

—
Code by Clockwork (Jeff Demers)

—
Rindis.com (Rindis)

—
Shooting Dice (Hans-Christian Vortisch)

—
Southern Style GURPS (Chris Bower)

—
Dice and Discourse (Joseph Mason)

—
Let's GURPS (Pseudonym)

—
Dungeon Fantastic (Peter Dell'Orto)

—
Into the Storydark (Morgrim)

—
GURB- The Generic Universal Roleplaying Blog (The_RyujinLP)