Wow. I have traveled from Minneapolis to Penang, Malaysia many times in the past. This was my first business trip to Thailand.
Bangkok is closer than Penang by a bit – maybe two hours, but for whatever reason, this trip hit me harder. Both directions, the trip was pretty tight, and accomplished in three legs. First was Minneapolis to Portland, then to Tokyo, where we landed after boarding started on my final flight. Then to Bangkok, where I then had to catch a taxi downtown instead of staying at the airport hotel, and then three-hour commute to Korat (Nakhon Ratchisma) to show up for work at 9:30am, which was pretty good, actually.
I thought I'd get a lot of writing done on the trip. I got some done – a bunch of monsters for Dragon Heresy, plus going over some playtester feedback and fixing some inconsistencies that cropped up in The Book of Heroes through the many revisions the rules have gone through.
But I was really jet lagged through the first two days, then the third day was a night out to dinner in Korat, then some more socializing the next day, and then back home. Four or five hours in traffic from Korat to Bangkok (airport hotel this time!), a few hours sleep, then the 5:55am flight to Tokyo (6 hours, maybe 6.5), then a short layover in Tokyo, then 9-10 hours to LAX, two hours in the airport, then 4 hours to Minneapolis. Would have been 3, but we had to route around some significant weather. I slept most of the first two flights, which helped me with jet lag but did not help me write, since the two activities are mutually exclusive.
Anyway, the blog has been pretty empty over the last few weeks. What's been going on?
The big news in GURPS Land is the success of the DF Kickstarter. It is doing reasonably well against its stretch goals, and by internet chatter it appears that it is being primarily funded by existing fans, but is also reaching some number of new folks, which is the entire point.
Still a lot of confusion over how much it costs to bring this to market out there. I can only state what I've found in my own research into Dragon Heresy – things are a lot more expensive than you think.
But the project is humming along, and doing well. I may yet up my pledge to the "I want it all" level of $250 from my current $155, because SJG keeps adding more to the kit.
Also, a while back I interviewed +Phil Reed via text, and +Sean Punch by video. Check them both out!
Dragon Heresy Progress


So, things are still moving, despite my whirlwind trip to Thailand.
Editing and Layout
I've spoken to my hopefully-to-be editor, and I think we're close to signing a contract, after which I'll be able to say who it is, when the time is right. He's not available to start until very late in the year, though, and we agreed that having him edit the work in January would be better all around. So my Kickstarter deadline just got pushed to then, and I'll have faith in the process and run the KS at the same time as he's editing the work.
I've got a layout consultation with an award-winning pro that is scheduled to come up here in a month or so, which will help +Rob Muadib refine his technique, which he can then apply to The Book of Deeds, which is the "campaign and setting and monster" book of the two-volume set.
I've also hired an indexer. He's going to start working that now, then again when final edits and layout happens, so there's the right groundwork in place to put the funded PDF to bed.
I feel I MUST have an index, a professional edit, and a layout that's gotten a professional touch. The rest – even art – is gravy. Important gravy, but folks may forgive public domain art, but they will not forgive an unusable or unreadable manuscript.
Nor should they.
Printing and International Shipping Issues
I've been steadily getting quotes to suss out the different options. I've gotten one very interesting quote from Thomson-Shore that allows me to print a small quantity in the UK for shipment to the UK/EU zone that is on the same price curve as the US printer. So basically if I get 1,300 backers, with 1,000 in the US and 300 in the UK, I can print the first batch for $17 per book and the second for $40 per book. That would allow me to charge (roughly) $40-45 for the US price and $65 for the UK, and shipping to the UK and US would be about $5, while to the EU it seems to be around $20. Total cost would be $50 for the US, $70 for the UK, and $85 for the EU.
That sounds bad, but at $40 for a "one price fits all" plus something like $65 for shipping a 4-lb package to Germany (!!) it's still a savings over print-and-ship. +Jens Finkhäuser is working other options for print-and-deliver for projects like mine, but it may or may not be ready by the time I'm looking to go. Still, my research sets the bar. Also, if I got 500 EU/UK backers instead of 300, the price drops by about $10-15.
I've looked into similar arrangements for Australia.
I have to think that the right way to go here is to have EU, UK, and Australia/NZ backers pledge for the full-color PDF and somehow indicate that they would like to own a print copy. Then when all is said and done, I'd have to set up a pre-order or "interest poll" on my own e-Commerce site (to be created), and then if there is enough interest, I can get bids at the right interest level, arrange a local print job, and then put a special item on sale on my future website for those residents only. What I'd like to do is basically take pre-orders in escrow until the right number is met or exceeded, then order.
International shipping is a pain, but print local, ship local really does seem to be a thing.
I will try and work up a few novel pricing schemes for this. Maybe something like "buy a full-price PDF, and then you get a discount on the print copy." Not sure – the key is that there needs to be some way to gauge how serious individuals are about the pricing, because I would only want to order enough to cover the run, plus a few more. Retailers would help me huge by ordering five or ten at a time, if they'd risk it. Hard to say.
The other way is how SJG did it – commit to shipping a pallet to a central location, and they distribute from there. That spreads the shipping out quite a bit, and allows me economies of scale by doing one big print run.
Still: as the old SNL skit goes, it's all about volume.
Art and Artists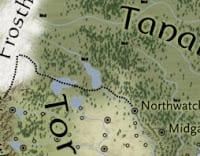 I've got two lined up. I have sent out a retainer check to one, and I need to get my butt in gear and put up some guidelines for the other – I've been telling her "work is coming!" for so long it's irritating (more so to her than me, I suspect), but I'm feeling better about where the progress and timing are, so I feel like I can start some art buying. It'll help with the advertisements and Kickstarter promo.
I've also taken final delivery of my maps. There's a sample to the right to show the style, but I'm quite pleased with the work Cornelia did on it. I've got color and black and white maps, so that I can make a fast-loading Black-and-White PDF and a full-color PDF for (a) people that just like color, and (b) it sets me up for the full-color print run.
I still believe I will need something like 350 pieces of art, so the two artists I've referred to are only the beginning.
Writing Progress
The monsters are the thing, and they're progressing. I got such a good contribution from one of my playtesters in terms of finished work that I'm giving him Additional Material credit in the game. And compensating him, because good work gets paid.
I've got fluff text now for Undead (12), NPCs (22), Giants (5), Elementals (6), Fae (13), and Constructs (3).
When I say "fluff text," I of course mean "description of monster, appearance of the creature, what the habitat of the creature is, and a general outline of its behavior, including favored combat tactics."
Still a lot to go, here, but bit by bit it's getting done. I also culled the monster list by about 20,000 words, because it was too long as it was. I may yet cull more. My goal is to have both books come in at around 200,000 words, or 350-370 pages. That's "Monster Manual" size, for reference.
The Book of Heroes also got a full reading by a few testers, and we're resolving some inconsistencies that were introduced through version iteration. And one or two new rules, and at least one structure change, where "that should not be in equipment; that's a combat rule" reared its head. The book is better for it.
Parting Shot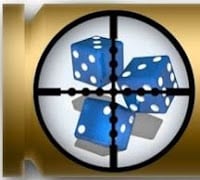 Ultimately, I'm shooting for a January Kickstarter, PDF availability in Feb/March, and print copies, if any, within a month of PDF release. We'll see how that goes, but I really want to have the whole thing wrapped up by the end of March 2017.
Oh, and I'm also getting my website revamped. You can catch a glimpse of what the new thing will be like here. It's not done, and more to go, but it's yet another step on the way to making both my company and my game a reality.