A quick Dragon Heresy update.
Things are moving along, and monsters are being written. I'm super-excited about my lizardfolk writeup, and the elementals and giants are pretty fun too. Actually, the undead are kinda awesome. Anyway, having a specific setting to tie monsters into is a great creative aid.
In other news, I got some feedback on the magnitude of the project which has . . . given me pause isn't exactly right, but it's not wrong either. "Hey, here's a new company, doing a SRD5.1 project that is probably 700-750 pages in two volumes" is a big ask.
So I'm going to try something different. I'm going to rip out the grappling rules from the Dragon Heresy manuscript, plus +Peter V. Dell'Orto and my "Grappling Old School" rules from Manor #8 (which also appeared in Guardians, an OSR Superhero game), and polish them up for a very small Kickstarter.
I have many, many more words written about grappling than I can use. I have months of playtest of the system, plus all the GURPS stuff where folks have played Technical Grappling.
I'll get to trial my layout, give my artists (one under contract, three pending) some early paying work, my indexer and I will figure out a process there, and I'll get to run myself through the Kickstarter process from start to finish.
Total ask? Likely less than $1,000 . . . maybe much less.
I'm reaching out to some other authors about some add-ons for extras (all will be PDFs – this is designed to be an "instant gratification" Kickstarter unless it smashes stretch goals for "MOAR ART! COLOR ART! COOL COVER!" or whatnot, in which case you get the B/W version RTFN, and a color version when it's done.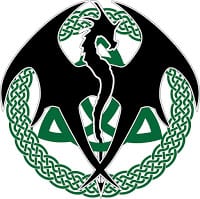 I will also have a "so . . . you want to help fund Dragon Heresy" set of . . . call them "elite tiers." I've got ideas for this that have to do with having your face and image appear as major historical characters in the art in the DH books. Still cooking on that idea, but I'd commission art to mutually satisfactory specs (real or idealized version of you? What class? pose? that sort of thing) that fit within the scope of art direction for the book. You'd get (minimum) a signed copy of the piece. At best, it reduces what I need to fund for the DH book, as all the art can be re-used.
Anyway, I anticipate having the manuscript done by this weekend or middle of next week. Prelim layout using the DH format (simplified, I think) and density the following weekend. Then I'll reach out to my artists and we get to see how well we all work together.
I'm excited about this. It's a much lower risk project than The Big One, and if successful, the OSR and SRD5.1 crowd will finally have grappling rules that don't suck. :-)