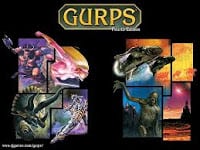 Thursday is GURPSDay . . . but today on a Friday! This time, GURPSDay comes to you from the Korean Airlines lounge in Incheon, where it's currently about 7:22am on Saturday morning. That means 4:22pm Friday central time.
And also once again, we owe today's post to the Aline, the Lady GMPC.
Below you can find the blog activity from the last seven days.
SJG is still running a 40% off sale on Warehouse 23 (some of the blogs mention this), and have seemingly embraced Print-on-Demand to bring back selected books in hardcover. This is good, but it's also an experiment – if successful, we get more. If not, probably not. There's a 30% sale on print products, too.
Oh, and today's Pyramid is the promised "Welcome to Dungeon Fantasy." I will review it, since I need to do something for three hours that doesn't involve falling asleep and missing my flight.
Not every blog posts about GURPS every week, but some are ridiculously prolific! The list is randomized, so different bloggers will be highlighted at the top of the post each week.
As always, if you're interested in having your blog consolidated here, navigate over to The Instructions Page and drop me a line.
—
Hard Maths (CTA)
—
GURB- The Generic Universal Roleplaying Blog (The_RyujinLP)
—
The Collaborative Gamer (Joseph Linden)
—
Generic Universal Eggplant (Enraged Eggplant)
—
Northport (Denis McCarthy)
—
Gaming Ballistic (Douglas Cole)
—
Mailanka's Musings (Daniel Dover)
—
Don't Forget Your Boots (Mitch French)
—
Fragments of the Last War (Bryan Timms)
—
Dark Paths and Wandered Roads (Jason Woollard)
—
Let's GURPS (Pseudonym)
—
Dungeon Fantastic (Peter Dell'Orto)
—
Further Up the Spire (Archon Shiva)
—
Octopus Carnival (Ubiratan Pires Alberton)
—
Ravens N' Pennies (Christopher R. Rice)
—
MoeLane.com (Moe Lane)
—
Code by Clockwork (Jeff Demers)