Despite my "shipping never changes" parody from last week, this GURPSDay begins with Hall of Judgment books arriving in-hand in the United Kingdom. This was expected, since they started there and Royal Mail usually is about two days within the UK, so the international backers will be getting their books Real Soon Now. In fact, this means physical fulfillment started in August, meaning "by some definitions I met my deadline of physical product in August," though I only give myself partial credit: the bulk of the books will be in backers' hands mid September for the USA crowd.
But . . . to GURPS! GURPSDay is currently pulling from 103 blogs on the roster.
Welcome to GURPSDay 2018, and its fifth year – GURPSDay started in February 2013,  a year after I started Gaming Ballistic.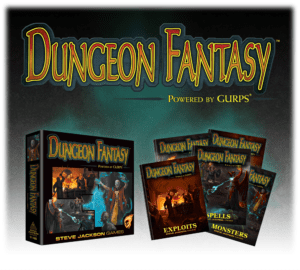 We still need your help. And if you just started a GURPS blog – and I know that some of you have – email me and get on the list! With the advent of the Dungeon Fantasy RPG, Powered by GURPS, there's even more reason to write.
How? Two action items: post more, recruit more. It's really that simple. More posters is more posts, and more interest in GURPS.
Below you can find the blog activity for the last week. There's a whole lotta awesome GURPS going on. Read all the posts.
Not every blog posts about GURPS every week, but some are ridiculously prolific! The list is randomized, so different bloggers will be highlighted at the top of the post each week.
As always, if you're interested in having your blog consolidated here, navigate over to The Instructions Page and drop me a line. Take special note of the RSS Settings Fix if you're on WordPress.
—
Olympus RPG Group (The Olympus RPG Group)
—
Northport (Denis McCarthy)
—
Above the Flatline (Timothy Ponce)
—
RadBox Studio (Adam Warnock (aka salsathegeek))
—
Gaming Ballistic (Douglas Cole)
—
Frak Frel and Other F Words (Rigil Kent)
—
GURPS Special Ops (Steve Jolly)
—
Daydreams of a Dragon (Dragondog)
—
Dungeon Fantastic (Peter Dell'Orto)
—
Mailanka's Musings (Daniel Dover)
—
Lair of the Chaotic GM (ChaoticGM)
—
DF Whiterock (dripton)
—
Octopus Carnival (Ubiratan Pires Alberton)
—
Sharrukin's Palace (Jon F. Zeigler)
—
Generic Universal Eggplant (Enraged Eggplant)