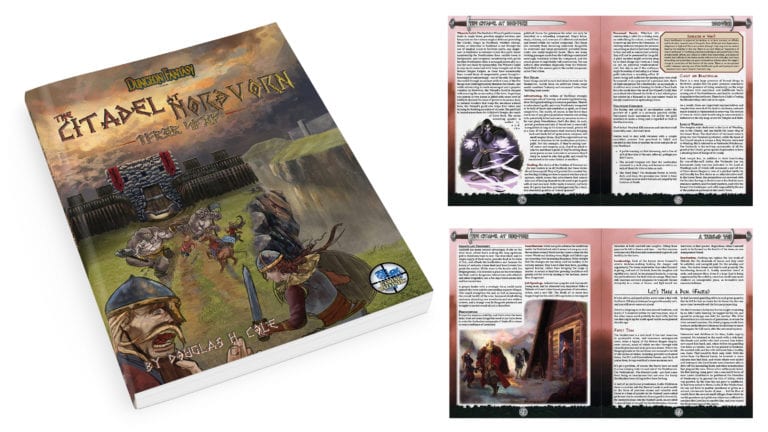 Over on the SJG Forms, user Dalin wrote up a perfectly blushingly glowing play report on The Citadel at Nordvorn:
This past weekend, three of my players and I retreated to a small family cabin in the snows of northern Minnesota to launch our new Norðlond campaign. I've been buying Doug's great DFRPG products since the first kickstarter, but have only run bits and pieces as one-shots with side groups. (I snagged a few monsters and sample characters for other adventures, too.) My main group just wrapped up their previous campaign, so we decided to dive in whole hog.

I wasn't sure where to begin and, with my school rapidly retooling for distance learning, I had little time to prepare. It came down to skimming/rereading my Nordlond material (Hall of Judgment, Citadel at Norðvörn, and the prerelease PDFs from the Nordlond Sagas kickstarter) and hoping something would click.

As I headed into the weekend, I expected that we would begin with Hall of Judgment as an introductory scenario. The players, however, wanted to get to know the wider setting before diving into an adventure, so we decided to begin with some vignettes along the Jotunnáin river. This led me to pull out the Citadel at Norðvörn. This was the book that I was the most unsure about. I loved reading it as a setting book, but I wasn't sure that I would be nimble enough as a GM to flesh out the various plots on the fly. I should never have hesitated.

It was awesome. Seriously. I'll post more about it in this thread as I have time, but we probably played for 15-20 hours over the weekend and there was no shortage of material. The vignettes idea faded away as the group became absorbed by the plot threads in the small town of Áinferill. The NPCs were rich and evocative. The maps and pictures in the book made great game-aids, and my players were fully immersed. It grew naturally from low-stakes roleplaying with minor NPCs to an epic quest into the Dragongrounds. There were moments of comedy, pathos, and edge-of-your-seat action. It was some of the most rewarding gaming that I've ever experienced.
I don't get a lot of feedback on my stuff, least of all play reports. So hearing that it went well, and that more detailed reports will follow, fills me (and Steve Jackson himself!) with joy.
If it seems interesting, The Citadel at Nordvorn is not hard to get in PDF or Print!