Status
We're headed into the home stretch now for More Perilous Journeys on Kickstarter, with the final sprint starting in about a week. The campaign has passed the 90% mark, and is less than $2,000 from funding. That's fewer than 35 people at the average pledge rate . . . we can do it, and more, given that just about 430 folks are following the campaign but haven't yet backed.
The Authors Own Words
You've heard me talk about the works . . . now let's hear from the actual writers!
David Pulver
Dragon Hunt! is similar to my earlier Vampire Hunter Belladonna (or to Grail Quest), but it's an even bigger adventure, the longest TFT solo ever produced. One of the things it does is describe a large sandbox-sized region to explore, with multiple named villages, castles, and monster lairs and NPCs, sharing an intertwined history that will be revealed as you adventure. The ostensible theme is hunting dragons, but there are lots of other monsters to encounter. Dragon Hunt is designed for one or two players; again, you can play it solo or with a GM as the adversary. It also introduces several new TFT monsters.
Dark Lord's Doom is very different. Inspired by books like the The Black Company, it's an "epic" different programmed TFT adventure: a mini-campaign that follows a single squad of characters over the course of an entire war, with encounters including patrols, desperate holding actions, massed battle scenes, siege warfare, street and house-to-house fighting, and a confrontation with an evil dark lord. Your characters can go from being common soldiers to having the fate of the entire kingdom in your hands. Like all programmed adventures you can run it solo or with a GM acting as the adversary player, but it supports play with one to four players.
Both are being edited and illustrated at present.
Christopher R. Rice and J. Edward Tremlett
In Roc of Sages the characters get talked into going to a dilapidated and dangerous island in order to help their ghostly patron harvest parts of a very rare (and extremely dangerous) breed of roc. This requires a trip to a rather forward-thinking temple, a showdown with a horde of League Collectors (and their ill-tempered boss), and the invasion of one of my favorite dungeons — a giant drill, slowly boring into Cidri for reasons left unsaid. All that plus alchemy, questionable instructions, and possums of unusual size, as per Christopher's request.
Continuing on to Catacombs of Living Death, the newly-resurrected Sevantes has summoned them to a small, Christian kingdom to help him locate another powerful artifact, but wouldn't you know it, there's a plague on? Worse, the plague turns its victims into rot-spreading zombies. Worse still, to find the artifact they have to go upriver into ground zero of the contagion…and there's something even nastier waiting in the catacombs for them. Our answer to Ravenloft by way of Apocalypse Now, the trip upriver should give your players a few good shivers, and the choice they have to make on the way back will have large repercussions on what happens next.
The Sunken Library provides the epic conclusion to the Sevantes/OIan-Pok pentology! Sandwiched between a tense escape and a trip to the strangest library the party might ever visit is a chance to do the unthinkable — assassinate the three heads of the Indhyna League and take control of the organization. Doing so requires subterfuge and planning, not to mention the possibility of saving an entire city-state. Just one problem: their patron's never been precisely what he seemed, and the last people he double-crossed are on on the move. As final acts go, it's a doozy.
Bringing it Home
The last third of the campaign looks to be where it's all decided. If a large fraction (about half) of the followed-but-not-yet-backed come in, we could pretty much equal Five Perilous Journeys in backer count. That would make for a nice project! And the sooner we fund, the sooner I can start getting busy with commissioning the interior artwork, which only happens after the project funds.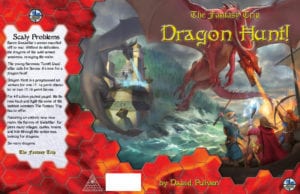 Ksenia and I did exchange notes on the art direction for Dark Lord's Doom, and I can't wait to see what she brings to the table. I really think the first cover for Dragon Hunt! is outstanding, and Christopher and J and I are working on the direction for the Jok Sevantes trilogy as well. We expect to have all five covers done by the end of June, if not before . . . so I'll keep folks posted.
Onward!