Boom!
And we asked SJG "what about PDF! How can you do this without a PDF?"
And they answered.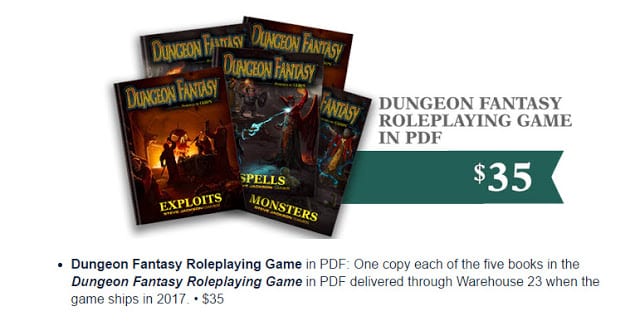 Here's the text of Phil's announcement in the Kickstarter:
I've already increased my pledge to cover the cost of the PDFs.
Dungeon Fantasy in PDF
As requested, we're offering the five Dungeon Fantasy Roleplaying Game books in PDF as an add-on to the project.
If you would like the PDFs in addition to the printed box set, please add $35 to your pledge; you'll tell us exactly which add-ons you've selected during the BackerKit survey.
If you only want the five books in PDF, then you may back the project at the "No Reward" level for $1 and then add $35 to your pledge for a total pledge of $36 to receive only these five books in PDF.
If this project closes successfully, then the PDFs will be delivered through Warehouse 23 when the printed box sets ship in 2017.
– Phil Reed