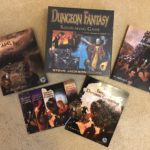 The Norse-inspired Norðlond setting for the Dungeon Fantasy RPG keeps growing. Here's what's going on, and what's coming, for Gaming Ballistic in this series of third-party products for SJG's Powered-by-GURPS boxed set.
Nordlond Sagas: Now on Kickstarter
On Sept 10, Gaming Ballistic launched its 8th Kickstarter campaign, and much like the quite-successful "Four Perilous Journeys" campaign for The Fantasy Trip, Nordlond Sagas is also funding multiple books.
The Dragons of Rosgarth
48 or 64 pages
This setting expansion and adventure scenario details the towns of Midgard and Jarngarðr, and provides a looming threat worthy of a party of seasoned delvers. Targeted at four to six delvers of 300 points or more. Written by Kyle Norton.
Forest's End

64 or 80 pages
A bold thegn built a fortified settlement beyond Audreyn's Wall, near where the forest meets the sea: Skógarenda . . . Forest's End. Forest's End features several threats and three actual dungeons to delve for the Dungeon Fantasy RPG! Written by Merlin Avery.
Norðlondr Fólk

16 pages
Sixteen playable racial templates to supplement those from Dungeon Fantasy Adventurers, including Norðlond-specific versions of elves and dwarves. Also dragon-blooded, children of humans and demons, and other hybrids, such as raven-folk and those who are brothers and sisters to bear and boar. Written by Kevin Smyth.
Previous Books
Of course, if you missed out on the Hall of Judgment and Citadel at Nordvorn campaigns, those are available, along with the Fantastic Dungeon Grappling booklet, as both comprehensive "all the books" pledge levels in both PDF-only and Print/PDF bundles, as well as add-ons should you wish to pick and choose.
Announcing: Nordlond Bestiary and Enemies Book
Gaming Ballistic is thrilled to announce that we've been given the green light to develop a comprehensive bestiary for the Norðlond setting for the Dungeon Fantasy RPG.
It's going to be very meaty, to the tune of 200 to 250 creatures, mundane and magical. Making it Nordlond-specific and based on the Dungeon Fantasy RPG means that the project and its collaborators get to write to a common target. The specificity of it means each creature and entry can be tailored well enough that it's not just a list of generic creatures. The issue that plagues such projects is that it's impossible to guess what campaign flavor it's going to be in. By making this support Nordlond, it removes that constraint and allows me to be specific while not precluding other efforts or adaptations.
This is going to be, well, a beast of an endeavor. The good news is that tens, maybe even hundreds, of thousands of words already were written as part of a different project for this purpose. Some art even exists. And I even have a draft (work-in-progress, subject to change, etc.) cover: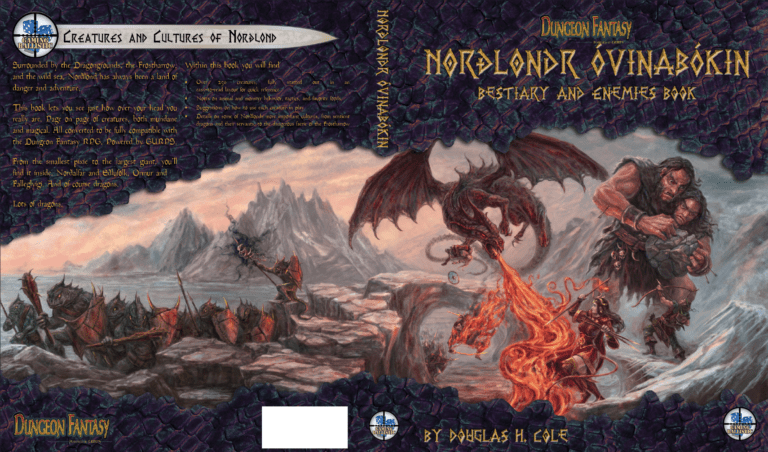 A project this large will take a lot of funding to pull off. That's why I haven't rolled it in to the Norðlond Sagas kickstarter directly.
But I will say this: if by some miracle the current Kickstarter takes off and hits like $75,000 or $80,000 (which is a record-for-me-breaking campaign of 1200 to 1500 backers!), I'd not need to fund it separately to get to the printable PDF stage. I could develop it and only at the end use a short campaign to size the print run.
Wouldn't THAT be fun?