The Norðlond Sagas crowdfunding campaign launched this morning at 10:30am. AS I write this, perhaps seven hours into the campaign, we've already passed 45% funding. In one day. We're thousands of dollars past where we were on the end of Day 1 of the Norðvörn campaign.
This campaign is offering up three more books to add to your Dungeon Fantasy RPG collection – perhaps you were fresh off the Dungeon Fantasy Magic Items 2 campaign, and that whetted your appetite for more? Well, we have it for you.
What's on Offer
So…what can you get with the Norðlond Sagas?
The Dragons of Rosgarth
48 or 64 pages
This setting expansion and adventure scenario details the towns of Midgard and Jarngarðr, and provides a looming threat worthy of a party of seasoned delvers. Targeted at four to six delvers of 300 points or more. Written by Kyle Norton.
Forest's End
64 or 80 pages
A bold thegn built a fortified settlement beyond Audreyn's Wall, near where the forest meets the sea: Skógarenda . . . Forest's End. Forest's End features several threats and three actual dungeons to delve for the Dungeon Fantasy RPG! Written by Merlin Avery.
Norðlondr Fólk
16 pages
Sixteen playable racial templates to supplement those from Dungeon Fantasy Adventurers, including Norðlond-specific versions of elves and dwarves. Also dragon-blooded, children of humans and demons, and other hybrids, such as raven-folk and those who are brothers and sisters to bear and boar. Written by Kevin Smyth.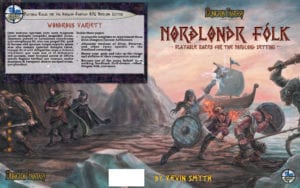 A Note on Add-Ons
A few comments on add-ons.
Multiple Copies of Books
I had a question on ordering more than one set of books; this also applies if you wish to pick and choose from the offerings from the Kickstarter.
You bet. If you want to gift them to someone else, or want to frame them, or whatever: A second set will be available regardless of final page count to backers at $60 per set. If we hit a stretch goal and page counts go up, anyone who actually has joined the campaign early – even the $1 folks – will be able to get more copies at this price. If page count goes up, pre-order backers coming in late will get the books at the post-campaign retail price (that's only $65 for the set instead of $60, but still).
If there's interest in buying multiple copies of a particular book, those will be available too during the backerkit phase.
Nordlondr Folk: $10 in print, $5 in PDF; $13 as a bundle
Rosgarth: $18 in print at 48 pages; $9 in PDF, and $23 as a bundle
Forest's End: $21 in print at 64 pages; $11 as PDF; $26 bundle
Norðlond Maps
One of the add-ons is a choice of large-format map options covering Norðlond, and showing how Isfjall (from Hall of Judgment), Norðvörn, and the towns and adventure locations from the books in development are connected.
Right now, it's offered as a 12×18″ POD version from DriveThruRPG's poster printing service, and as a 16″x20″ option on 14 ponit card stock.
That option is going to be big to ship. It cannot be folded (well, it can, but you'd be mad) and so may very well cost $10 or $15 in shipping for a $15 item. It will not roll up into a small USPS triangular mailer.
So I'm looking into a middle ground, which is a 16×20″ poster on heavy poster paper, which CAN be rolled up and will therefore be less expensive to ship. No word on how that will play out internationally; it may wind up being prohibitively horrible to ship the big format cardstock. We'll see. Shipping is horrible.
Milestones Already?
This is my eighth Kickstarter, but it marks a few milestones for Gaming Ballistic and the Dungeon Fantasy RPG.
When it's finished, there will be a full half-dozen books supporting the Norðlond setting. Four setting/adventure books, and two rules supplements. That's a credible showing, and I'm proud of it.
It's the second time I've asked for, and received, permission from SJG to play in the "rules" space. The first was with Fantastic Dungeon Grappling, which was inserted into the Boxed Set Reprint, much to my joy. The new book, Norðlondr Fólk, features some exciting options for character generation, with 16 new race and ancestry options and variations.
It's the first time in the Dungeon Fantasy RPG space that the products aren't written by me. This means three new people, who have never before written into a GURPS/Dungeon Fantasy RPG book, are joining the stable of "folks who have written for GURPS/Powered by GURPS." This makes me very happy, as more writers means more stuff.
Schedule
Just to give a rough idea of where things are supposed to go:
Sept 10 through Oct 12: Kickstarter Campaign Active
Oct 12 through (roughly) Oct 26 – Funds Settle
Haloween Week: Backerkit phase opens for surveys, shipping, and pre-orders
 Mid-November: Backerkit "closes" and cards are charged[1]
End November: PDF review phase[2]
Mid-December: PDF feedback due
Before Xmas: PDFs sent out and final files sent to printer
End January: Printing
End February: Moving books through the world
End March: Arrival in-hand
[1] Backerkit won't really CLOSE until the final printer files go out, so I know how many orders to place.
[2]The PDF review phase will see about 10% of the backers get preliminary files. These are chosen based on a combination of how much was pledged (total pledge amount, not pledge level) plus a random factor, so that the highest pledge levels get priority, but lower pledge levels are not locked out. This phase is IMPORTANT, and everyone who provides useful feedback will get credit in the book.
Ready, Set, GO!
So that's the plan for now. As noted in the various preview announcements, now that you've pledged, you can still help out. Share the link to social media. Start or contribute to a thread on the various RPG groups (which reminds me: gotta post on Reddit). Say nice things in places! It really does help.