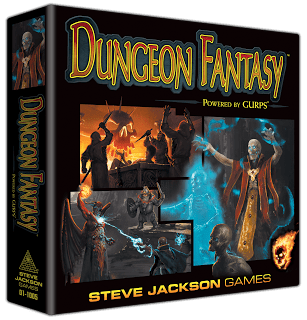 Steve Jackson Games has made a major announcement about the Dungeon Fantasy product line.
They will be launching a Kickstarter (tomorrow! September 1) to fund the development of a five-volume boxed set with extra pieces and revised content. Lots of support in the box to help new players get into the game, too.
One of the most intriguing things to me about the cover art? Powered by GURPS.
I always thought PbG was a great idea. I still do. That they've brought it back (PbG was a thing for the 3e WW2 sub-line, and a few other projects) gives me some hope for other ideas I have as well.
There's more to this post than a repeat of other news, though. I will be conducting a written interview with Phil Reed on this topic, and welcoming Sean back to the Firing Squad (my video interview section) next Wednesday to discuss the content of the game in detail.
So watch this space! Exciting things are afoot for GURPS. Two hardbacks and a boxed set in one year. Oh, and I'll say it anyway, because it needs to be said
If you have observed, stated, complained, or otherwise noted that you do wish support for GURPS would increase, you need too back this Kickstarter. This is almost certainly the weather balloon that SJG is sending up to see which way the winds are blowing. And with all the extras in the box, with the five-volume treatment, and Sean spending a LOT of time doing far more than simply compiling already-issued content, the production values will be there.

So back it, review it, play it, share it with your friends. Don't let it languish or flop. Success breeds future product. Want a GURPS Action boxed set? Steampunk? Monster Hunters? Space Marines/Bug Hunt? Great. Fantasy games are about 20x the market of all other genres combined, in dollar terms. So if you want those others, support this one.