The OSR Christmas continues today.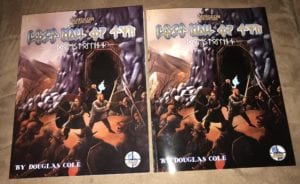 Edwin Nagy was yesterday's winner, and I gave him a choice of Lost Hall of Tyr or Dungeon Grappling – he chose Lost Hall.
I'll offer the same choice to each winner – which of my (for the moment) two products do you want? Dungeon Grappling will suit if you really want all the options in it, or wish rules for Pathfinder and 5e along with your Swords & Wizardry.
Lost Hall is the newer product, and also contains a two-page Dungeon Grappling quick-start that will get you going on sensible grappling rules. As a GM, you'll love what they do for your monsters. As a player, it's a sensible extension of the usual combat rules that gives an axis of conflict resolution that doesn't always result in dismemberment and escalation (but still can be used for such).
In any case: the plethora of electrons available in my inventory makes "winner's choice" a sensible offer.
Merry Christmas!