Gaming Ballistic is a publisher of roleplaying games, and this note lets you know where you can find Gaming Ballistic on the Web.
As a company, I support the 5e-derived Dragon Heresy system, D&D5e through the Open Gaming License (OGL), and OSR products, usually with a focus on Swords & Wizardry, especially since I'm getting to know the guys and gals at Frog God better over time. Zach Glazar, for example, is basically the guy who spent an hour or two of his own time to help me get my bearings in InDesign.
I am also a huge fan of the GURPS-related variants by Steve Jackson Games, and through the product Hall of Judgment, am one of their few license-holders, and to my knowledge so far the only one for the Dungeon Fantasy RPG. Which is different from GURPS Dungeon Fantasy, itself a sub-line of the overarching GURPS portfolio.
All that said: if you can't find me, you can't play my games and buy my stuff. Buying my stuff lets me make nicer things for you.
Finding Gaming Ballistic
As seems to be required these days, you can find me all over the place:
Buying Stuff
To date, I have written four books through Gaming Ballistic, and one through Steve Jackson Games. They are Dragon Heresy (DH), Hall of Judgment (HoJ, for the Dungeon Fantasy RPG, Powered by GURPS), Lost Hall of Tyr (LHoT1e; for 5e and S&W), and Dungeon Grappling (DG; for 5e, S&W, and the Pathfinder RPG). I also wrote GURPS Martial Arts: Technical Grappling (TG) and published a bunch of articles in Pyramid Magazine since 2002 for Steve Jackson Games.
Where can you find these fine products?
The main web store is best for me, because I get a larger cut, and that means more wherewithal to make more games.
I absolutely support direct-to-retailer purchases, with a usual discount of 50%. If you are a buyer for a retail store, you'll need to contact me (see below!) and I'll get your store email address entered into my Coupon Code section, and I'll get you a coupon that will let you get a 50% discount on orders direct from me; larger orders will get free shipping.
What's this about "LHoT1e" you might ask? I am currently revising and refining Lost Hall of Tyr to directly support the Dragon Heresy game. That means pulling in all the worldbuilding stuff I did for Hall of Judgment (which is essentially LHoT pushed up to 128 pages from 64 and then opened up as a more sandboxy campaign rather than what LHoT was designed as: a convention one-shot), and making the challenges mostly suitable for a starting party of level 1-5 adventurers . . . but don't count on all encounters being "balanced." Some need to be avoided or you'll get flattened.
In any case, look for a second edition. If you already own Lost Hall 1e in PDF form, you will get the Second Edition free of charge. Comp copies will be delivered by DriveThru to those who purchased there, and by the Gaming Ballistic website for all Kickstarter backers or direct-purchase customers who have an account on my website (and if you don't have one but do want one, email me).
Contact Gaming Ballistic
I am easily accessible via email, Discord, and the Facebook Group.
In addition, I am a frequent contributor to the RPG Breakfast Club over at the Tenkar's Tavern discord.
I tend to answer most questions on a "right the heck now" basis. Sometimes it might take longer.
I'm also increasing my convention presence over the next few years. I was at GameHole Con in Madison in Nov 2018, and will try and make appearances at Con of the North, Convergence (both in Minneapolis), GameHole 2019, and GaryCon 2020 if I possibly can do so!
You can also sign up for the Gaming Ballistic mailing list. I try not to use it much, to prevent spam-induced unsubscription, but I try and announce upcoming Kickstarters and projects there first. And if none of that suits, here's a contact form: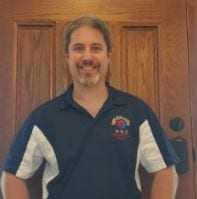 Howdy! I'm Doug, though my author credits are always listed as Douglas H. Cole
I have been role-playing since 1981 – starting with Holmes Red Box and AD&D, sampling many systems along the way, and started heavily playing GURPS since 1988. I've been an active playtester and author for both Third and Fourth Editions for a while; I started while I was in grad school at Northwestern.
I'm an occasional but avid target shooter and movie-watcher, I love postponing woodworking and home improvement projects, and I'm an inveterate GURPS rules tinkerer. And now I run my own company – Gaming Ballistic, LLC. But since you're here, you already know that.
I have earned two doctorates: a real one from Northwestern University in Materials Science and Engineering, and a cool one in GURPS Ballistics from Illuminati Online University, based on an article I wrote a while back.
I currently live near Minneapolis, and work for a hard-disc-drive company as my day job. All the rest of my time is spent either working on products for Gaming Ballistic, or with my family – outnumbered badly by my wife and two girls.
More on Gaming
I started playing GURPS in 1989 with 3rd edition. Since then, I've done a lot of playtesting for 3e and 4e, plus LP for the Fourth Edition High Tech and Tactical Shooting. I've published about six articles in Pyramid, and I've an e23 book (GURPS Martial Arts: Technical Grappling) that was the first GURPS release, on Sept 5, 2013, after the Big Damn Ogre got out of the way.
It is my secret desire to have the notation in TV Tropes for grappling rules say "Averted, in Fantastic Dungeon Grappling."
There, now that I've said it, it'll never happen. But . . . that won't be my first mention on the GURPS page of TV Tropes. It'll be my THIRD.
First: the mention of "the closest thing anyone got to deriving the system the authors used goes on for pages," referencing an old article I wrote in Pyramid on "Interior and Terminal Ballistics for GURPS." The second is a nod to my "Nasty Transcendental Equations Table" in Pyramid #3/33, the article on bows called "The Deadly Spring."
And in fact, TG is mentioned in TVTropes already, but no opinions on averted or not are given. Alas.