Administration
The alpha and the omega of GBLLC this week was the Kickstarter – the video prep, the launch, and hitting F5 like a ferret on crack all week.
In other news, I'll be on the Shane Plays radio show from basically 1-2pm tomorrow. Not sure what Shane's going to ask me about, but I'm sure we'll cover GURPS, Dragon Heresy, and of course Dungeon Grappling.
Dragon Heresy
No progress this week, really.
Dungeon Grappling
Well, lots of news here, of course.
Started the Kickstarter on time, and hit 70% funding on Day one (about $900). Since rumor and rule of thumb predicts that you'll get about 3x your first day's total, that's funding, but not all the stretch goals. However, the DFRPG hit 6-7x with a nice, steady ascent, which for me would be $5,0000-$6,000.
That is more than enough to do everything I want to do with the book. Backerkit has me on path to around $3,400, which will probably be right about where I can barely do most everything I want with the book.
Backerkit seems to have a better algorithm than Kicktraq. But looking there (Kicktraq), on days not dominated by, say, the presidential elections, I seem to be pulling in about $350 per day. That would actually hit closer to $9,000.
Oh – and one ridiculously silly but entirely, spectacularly awesome thing – I was pre-emptively followed on twitter by the lovely actress who played Drusilla on Buffy the Vampire Slayer, Juliet Landau. She liked my Twitter page, which features the main scene from the Dungeon Grappling digital image from the KS.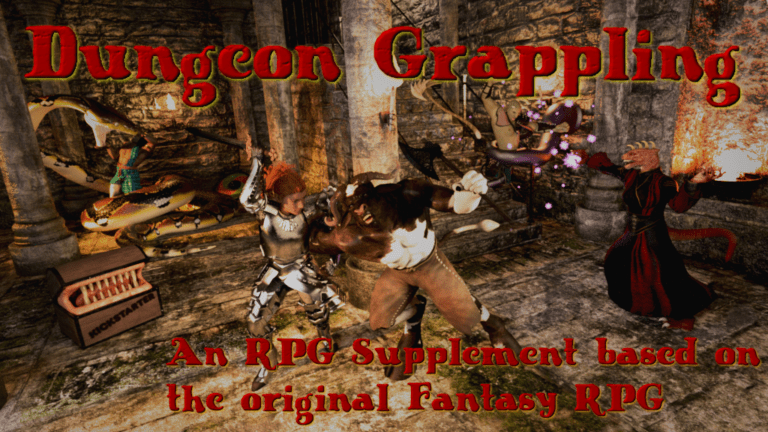 Print or Bust
While I probably would have made it to the basic $1,500 level eventually, it happened nearly instantly when I offered POD options. Meredith at DTRPG was very good at answering all my questions, and ultimately threw me over to the "new" application, which allows me to take a pledge, add shipping, and (unless there are customs or other issues that I cannot foresee or control) then guarantee it prints, ships to the various countries, and gets there. Might be days, might be 6-10 weeks, depending on destination, but it'll get there.
It was a hard decision for me. Not because I I didn't want to offer print (I really did), but my plan was to ensure I didn't offer anything that was out of my control, or might disrupt the schedule, because folks need to know that when Gaming Ballistic says "on time," it arrives on time.
But I'm convinced that after a few weeks of Backerkit processing, then delivery of the CSV file of quantities and addresses to DTRPG, the books will go out and then arrive in good order.
Status and Progress
I got the next round of layout improvements from Nathan. They look good. I've increased the amount of art in the book early, because layout demanded it, so the stretch goal of 20+ pieces of art will be fulfilled no matter what the funding level. The art spaces look good, and I have parceled out the square inches of art. There are some oddly shaped pieces, but that will be fun, rather than anything else. I already know what I'm going to do with the 6.75″ wide by 1 or 1.5″ tall space. Jason Blalock will hate it. Sorry, bro.
Oh, and the new layout has an index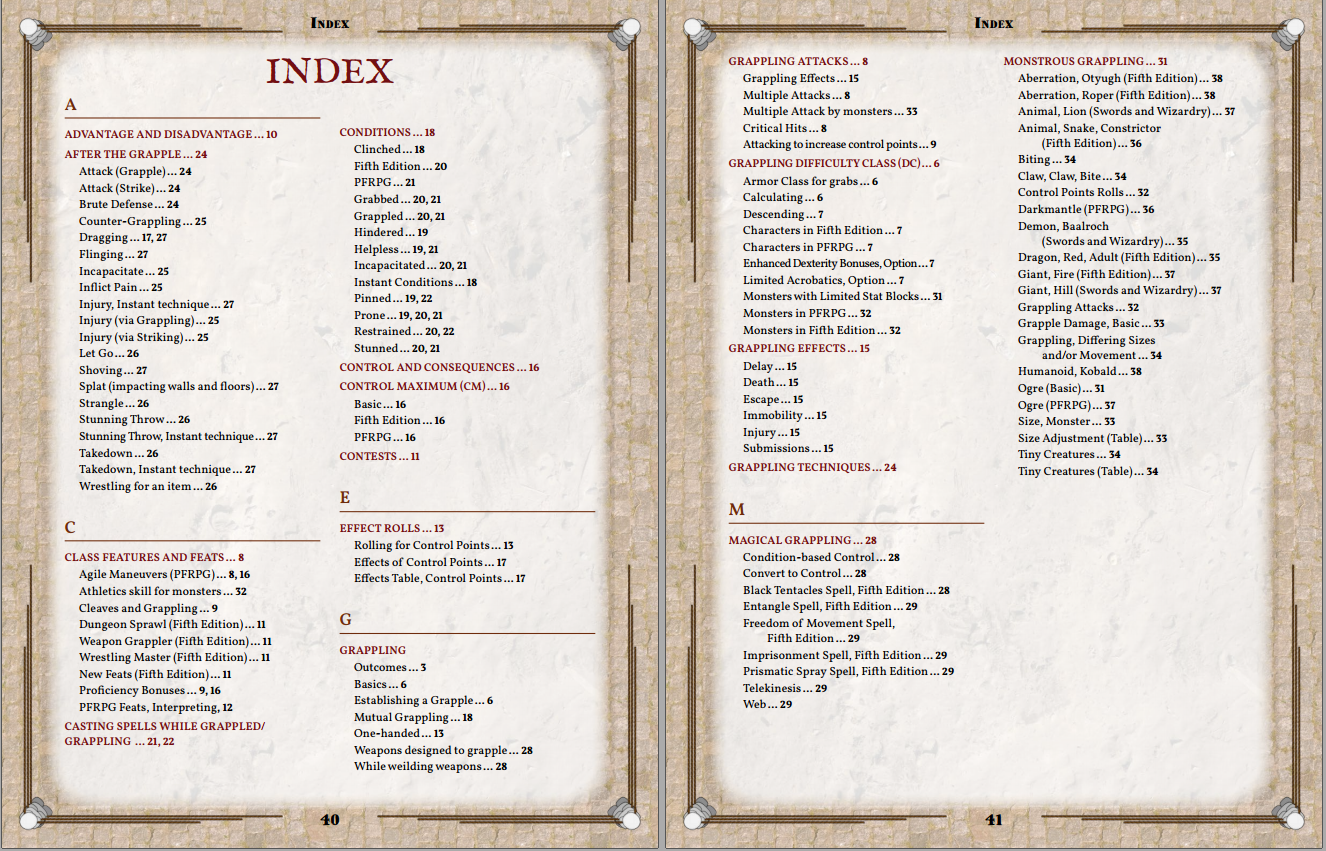 , plus two pages of quick-reference charts, as noted in the review by Follow Me, and Die!'s Larry H. It was a good idea, and I fired off every calculation and table in the book to Nathan today, and he had in my hands before end of business.
We also found at least one image for "behind the chapter head" background. The esteemed Dyson Logos has a bloody ton of maps under a freely available commercial licence. Stephen Joy also might be in the running for a background map. Still talking, there, but he's got a great candidate.
Here's another preview of the chapter header, complete with Dysonian image.
At this point, I'm feeling very good about where I am. I'll be writing art direction for the weekend, and then getting contracts and "batches" of art to each artist. As the money goes up, more and more art will turn to color, too.