It is now less than two weeks to Hall of Judgment at GameHole Con.
AAAAHHHHH!!!!!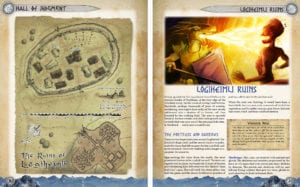 I mean, it should be easy. I've got Hall of Judgment. I've got maps. I've got pre-gens. And my Saturday even, from 8pm to Midnight, is filled up!
Friday, though: Friday never changes. Wait, no. Wrong movie.
There are still seats open for the Friday game of Hall of Judgment, which will be held in the DorkStock mini-con area. Not only will John Kovalic be there, but Steve Jackson and I believe Phil Reed will be in residence.
Plus, you can meet me, if that's of interest. I don't really have a firm schedule other than the two games I'm running. I deliberately did this so I can wander the con, chat with folks, and play any RPGs that strike my fancy, assuming seats are open.
In any case if you're going to be at GameHole, and are looking for something to do on a Friday:
Fri 4 PM
Role Playing Game | GURPS | Mendota1 – 7 Some Gaming Experience | Teens and Up (13+) | $4.00
Presented By : Dorkstock featuring Douglas Cole
I hope to see you there!