It's time for an update on Gaming Ballistic!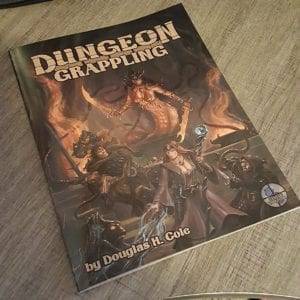 Great sales in March, thanks to the GM's Day sale on DTRPG have been followed by lackluster sales in April, with four copies sold (though two print copies, which I love seeing – not because of all the extra money, an extra few dollars per book, but because I do think it's a good book to hold in your hands).
At this point, with only two sales, I can conclude "The Art of Dungeon Grappling" as a failed experiment. Alas.
I'll be bringing a bunch of stock with me to the Independent Game Design Network's booth at GenCon, though, as well as shipping some stock over to their warehousing team.
I've not heard much from play reports, though. I'm hoping folks that use the game in play do give me feedback, and session reports. Consider this a request!
There's also an error that's come up twice in questions that is, thus far, the only errata that's been reported to me. In the 5e example, while Thorfirr's STR score is called out correctly, I made a typo in his attack roll, and so the paragraph introducing him on p. 41 should read as follows, with a 1d20+3 replacing the mis-typed 1d20+2. I've bolded the stuff that is relevant.
THORFIRR. A second-level fighter, and keeping his stats from the PFRPG gives STR 16 (+3), DEX 11 (+0), CON 11 (+0), and WIS 16 (+3). His AC is 16, he has 16 HP, his attack rolls are at +5, but lacking Athletics proficiency, he only grapples at 1d20+3. His Grapple DC is 13, from his Strength (Athletics) bonus of +3. His Control Maximum is 20 (his STR of 16, no DEX bonus, and 2× his +2 proficiency bonus).
Venture Beyond

We are very, very close to having a complete manuscript. The last reports I have had from David show a level of optimism about how the rules are coming together.
Unsurprisingly, it's coming in at the longer estimate of wordcount, and so I'm going to predict the book will be about the size of the Fate System Toolkit, with the adventure books each being fifty or sixty pages each. That's not really a change, but it is a confirmation.
Once I have the manuscripts in hand, things should go fairly quickly. I've got some mockups of kickstarter graphics banners that I did myself, and Juan took a look at them and thought he could improve them (doubtless true). I'll post a preview there when I have them, but for now, my first effort is shown above.
The look is designed to be "retro-tech," and as does the book's layout, it features a Hubble space background, and block, easy-to-read text with a raster-scan look to it. The space to the right is to hold some art.
Dragon Heresy

I spoke with Ken a few days ago, and we chatted about the perils of big projects during a busy time for successful freelancers. Anyway, things are more clear, and I can anticipate getting edited manuscripts bit by bit as April turns into mid-May.
I've also got some amazing preliminary sketchwork from Michael. My original concept for the covers got tweaked just a little, but frankly it's better the new way, and I think everyone will be really happy when they see it. I've been sending him images and art direction based on some of the recent Viking stuff I've been doing and seeing, and it's paying off. I know that's a bit of vague-booking, but I don't want to give the game away on this one – it's going to be a great reveal, though.
I also hope folks are enjoying Monster Mondays. There's a decent amount of info in those posts, and they show off the flavor of how critters will look and act in Dragon Heresy.
Project M
Regardless of that, there's some movement going on in the motion tracker around an expansion for Dragon Heresy that fills one of Ken's observations, which is that settings are better when the rules are written around the setting (this is the GUMSHOE method), rather than the rules left static and the setting painted over.
Dragon Heresy takes this about halfway – there are a lot of changes and improvements to the melee combat rules, but by and large the magic stuff was left alone. But I'm learning a bloody ton about Viking magic and sorcery, and have some ideas for something optional that would really make for a fun "try it this way instead." Need more time on that one, but honestly I think it'll be really cool as an expansion if Dragon Heresy is given what I hope is a warm reception.
Project X
I've always had more things in mind for the Dragon Heresy game, and based on some conversations I've had with a few people, what that will be is starting to firm in my mind. There will be a vast amount of downtime when the DH art is being created, and that time will be used to create the next iteration of the Dragon Heresy project. I know a whole bunch of folks that will be pleased with the results.
The Blog
With a bit of flutter happening over at Steve Jackson Games over the Dungeon Fantasy RPG, as well as me getting back into the "write content nearly every day" mode, my traffic is starting to creep back up. I had a bunch of ballistics-related posts, some Dungeon Fantasy RPG posts, and at least one Viking post. More of that this weekend, actually!
One thing I desperately need to revitalize are my "index pages." I have well over 1,000 posts, and some of them are great stuff, especially for GURPS players when we were doing more regular Melee Academy posts. Right now, if you click on each header you get a date-sorted list of all posts in the category. I need to add an option that takes you to a simple list of clickable titles.
This will be needed for at least the Melee Academy, GURPS 101, and Firing Squad sections, plus the Reloading Press. The rest can wait, but I need to figure out how that's done Real Soon Now.