Dragon Heresy is in the hands of backers at last, having shipped out all copies to those who backed the Dragon Heresy Kickstarter, and by this time tomorrow, I'll have gotten all of the DH copies out to those that added it to Hall of Judgment as well.
As folks have received it, it is my sincere hope that they do as The Mixed GM did, and review it. His review is short, sweet, and to the point, which allows me to make some useful commentary along the way.
"Now that's a cover! (Please excuse my phone camera and lack of camera skills)"
He likes the cover. The art is by noted Western Martial Arts instructor and historian Roland Warzecha. He told me that he had so much fun embellishing and making the drawing that his wife (whom I believe is the warrior pictured) had to nudge him to stop spending time on it. Read about the details of the composition here on the Dimicator Patreon page.
"Honestly, it feels like a halfway point between 5E and the OSR."
That, of course, was deliberately intentional. I like the OSR games for their speed of play, their reliance on the GM and player skill, and the open-endedness where rules are only invoked when needed.
I like 5E as a delightfully modular system that attempts – mostly successfully – to unify the basic mechanics of a very large amalgamation of various accumulated rules and ideas into a coherent whole. I've enjoyed the heck out of the 5E games I've played.
It's also, as he notes, a hack – it adds a small number of subsystems (grappling, social standing, flyting) and rules tweaks (wounds/vigor, Threat DC/Hit DC, and Damage Reduction for armor) that I think add to verisimilitude and enhance epic play.
"Hopefully, the 'X' will be Kickstarted soon…"
I've been asked about this a few times by enthusiasts, much to my delight. Yes, I have further plans. Yes, Level 1 through Level 20 is already written.
But the art – all of which really ought to be new going forward – is going to be expensive, and I'd really like to see significant interest from the market at large before I do another big one like the Intro Set. I'd like the next book to be full-color hardback, with the same production values, just like the Intro Set was. That takes serious funding, which takes serious backer interest.
"Removed the Thief/Rogue Class"
It's true that the thief/rogue is gone from the Dragon Heresy Intro Set! But perhaps not for reasons why you might think.
Thievery in general was a great way to get yourself outcast in Viking society. In Egil's Saga, Egil, a loud-mouthed, distemperate and ridiculously effective fighter (berserker/barbarian, really) and raider, goes on a raid. His force gets captured, but by virtue of prodigious strength, he escapes (by lifting up the main pole of the longhouse that he's tied within!).
They grab their weapons, some loot, and head back to the ship. Midway, Egil stops, and says that he cannot do this. He refuses to be so dishonorable as to steal. They go back, and I believe set the target's longhouse on fire, and kill those who emerge.
See, stealing is bad. But setting a house on fire and killing the men as they emerge? That's perfectly cool.
In any case, I had to make some hard choices when reducing my overall manuscript from 750-800 pages for my full three-volume original intent to 250-300 for the Introductory Set. Certain classes had to go. Berserkers had to be there; too Viking to not be. I added Skald (bard) back during the Kickstarter.
But there just weren't very many Viking thief stories, and for an Intro Set, I had to make choices. So Thief, Druid/Trevinur, Ranger, Paladin, and Sorcerer went by the wayside.
They exist, though. So do some very cool "explicit multi-class" options I wrote. Maybe in a Character Building expansion; that would add back the missing classes, and push the levels covered from 1-5 to include maybe up to 12 or 13.
Builds in the grappling rules from 'Dungeon Grappling'
I'm glad he listed this as part of "The Good!"
Interestingly enough from an historical perspective, the Dungeon Grappling rules existed first as part of the Dragon Heresy manuscript. When I got advice that no one in their right mind would fund a three-volume set from an unknown guy (true advice, if hard to swallow), I broke out the unique grappling rules as my first product.
They improved over time, and honestly improved again when I modified them for the Powered by GURPS supplement Hall of Judgment for the Dungeon Fantasy RPG, and then were inserted back into Dragon Heresy, where they exist in their present form.
Grappling is now very intuitive and easily blends with regular combat. The way it should be.
FULL COLOR ART EVERYWHERE
Yeah. Won't lie, I'm proud of that. And while he's kind enough to 'respect my IP' by not publishing more images, here are a few more.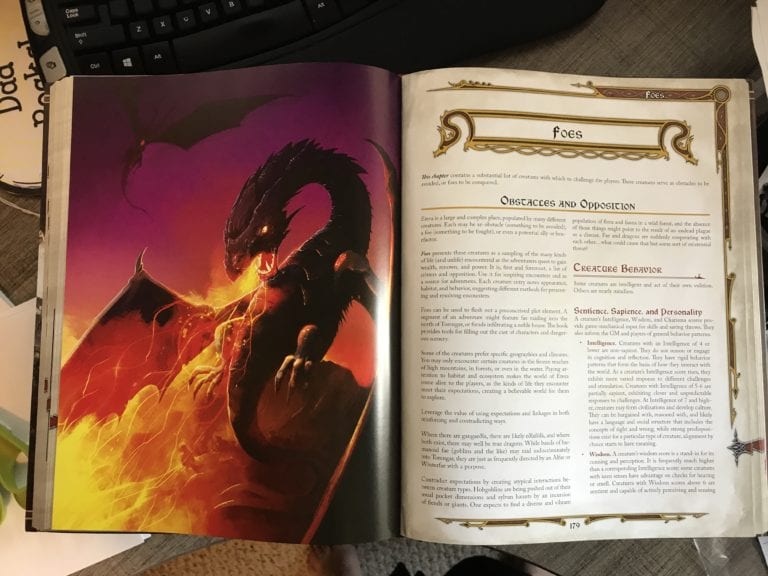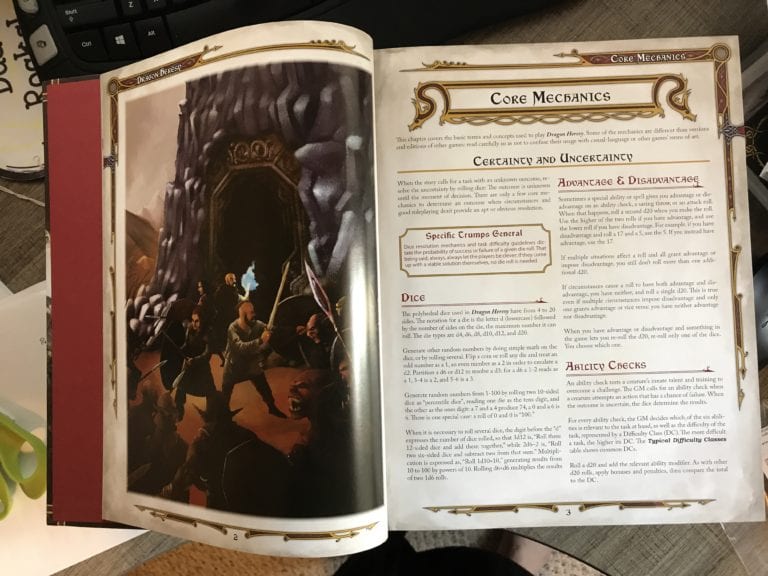 I really had a lot of fun specifying the art, and my art team: Juan Ochoa, Ricardo Troula, Christian "KrizEvil" Villacis, Roland Warzecha, Michael Clarke, Cornelia Yoder (cartography), Gerasimos Kolokas, Elizabeth Porter, John Blaszczyk, Gennifer Bone, Erin Arik, Dean Spencer, and Rick Hershey did amazing things with the book.
The Viking-ish world is baked into every aspect of the game, from class section to monsters
This is vital to the book, and to the world. I did everything I could – and given that the SRD is mechanics only, I had to do quite a lot – to ensure that everything tied to the world, to a viking/Norse feel, and had a reason. Even the Tieflings and other half-human, half-creature races, are tied to the world. There's a reason that those exist (half-elves, half-dragons, half-fiends, half-Asgardians) and a reason the Dwarves have no half-human parts.
A Vigor and Wounds system that is a little deeper than just hit points
This bit was important to me, as it both makes being dogpiled quite dangerous, but it also resolves some weird edge cases. It's also in keeping with the Gygazian notes on p. 82 of the AD&D Dungeon Master's Guide, where he notes that it's ridicuous for a high level combatant to be robust enough to only be killed by 10 sword strokes that land home, where a 1st level guy only takes one. Humans are fragile. With wounds/vigor, so long as you keep your wits about you, you can probably take most attacks as vigor. But once wounds start accumulating? Beware the death spiral, and consider strategic withdrawal.
Playtesting revealed this was a lot of fun, and produced an element of risk in fights that those that enjoy games like GURPS will recognize and enjoy. Anyone who has had to blaze through a foe with 150 HP in an unadulterated battle of ablation will appreicate it as well.
The Bad:  It is based on 5E, so if you hate 5E and 5E-based things with a burning passion, this may not be the game for you
This is simply true . . . but depending on what you don't like about 5e, you might find I've addressed some of it. Shields are way cooler. All battles aren't a slog of HP ablation. Grappling doesn't suck, and is in fact pretty fun. Monsters that grapple are terrifying. Vikings.
There's a lot to like here, even if I say so myself.
The Ugly: It has Tieflings. I don't like Tieflings
I have no response to this except an image of gratuitous Tiefling art courtesy of Juan Ochoa.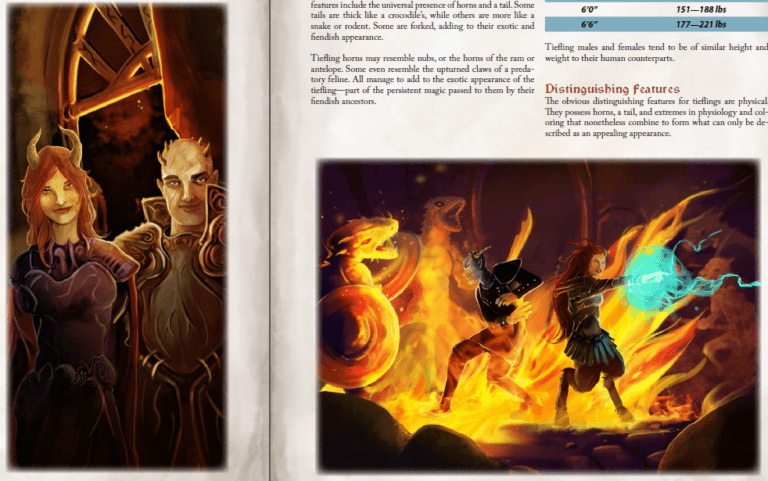 Parting Shot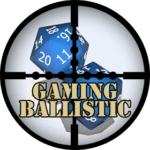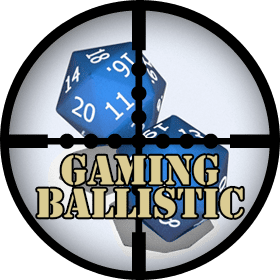 The Mixed GM's review is considerably shorter than my response to it. He definitely hit the highlights: if you like 5e, there's a world to explore, some fun rules tweaks, and it's a very pretty and well put-together book.
I hope you are encouraged to pick up a copy and see for yourself!